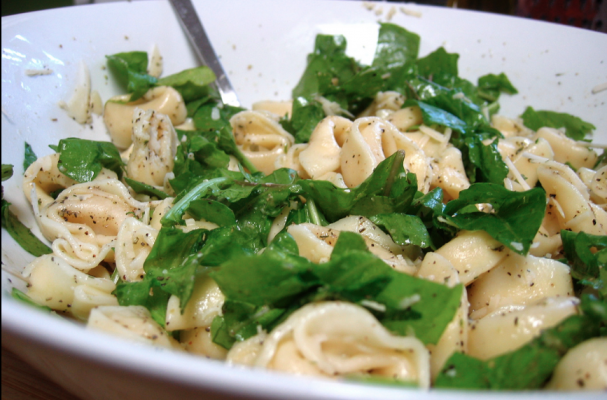 Tortellini salad is a quick and easy meal that is best enjoyed outdoors. This salad is inspired by the flavors of the Mediterranean; the tortellini is paired with feta cheese, cucumber, spinach, tomatoes, and olives. This perfect picnic food can be prepared ahead of time, at least 2 days, before serving.
Tortellini Salad
Ingredients:
1 (16. oz) package sun dried tomato and cheese tortellini
1/2 cup extra virgin olive oil
1 large lemon, juiced
1 tablespoon red wine vinegar
kosher salt and freshly grated pepper to taste
2 cups fresh spinach
1 English cucumber, diced
1 1/2 cups cherry tomatoes, halved
1/2 cup sliced kalamata olives
2/3 cup crumbled feta cheese
2 tablespoons chopped fresh Italian parsley
Directions:
Step 1: Fill a large pot with water and heat over high heat. Once boiling, season generously with salt. Add the tortellini and cook according to package directions. Drain pasta and set aside.
Step 2: In a large bowl, whisk together olive oil, lemon juice, and red wine vinegar until well combined. Season with salt and pepper. Add the warm tortellini and spinach and toss with vinaigrette. Taste and adjust seasoning as necessary.
Step 3: Add the cucumber, cherry tomatoes, olives and parsley to the bowl. Mix until all the ingredients are evenly distributed.
Step 4: Chill the pasta salad in the fridge for at least an hour before serving.

Image Sources: