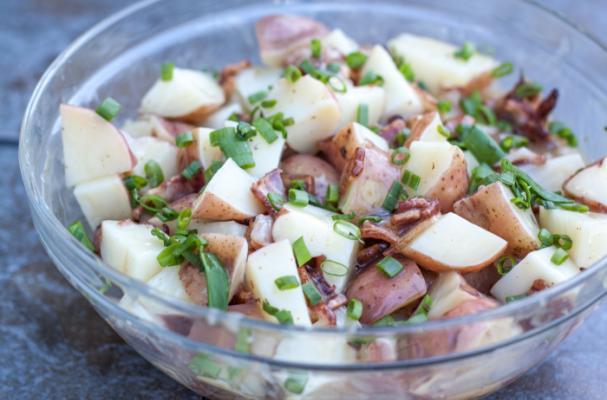 No matter the meal, the side dishes are just as important as the main event. They are designed to compliment the star dish but also set themselves apart as a contrasting flavor. These side dishes can stand alone or be apart of a larger orchestra of foods to be served on Memorial Day.
Creamy Shells and Shrimp Salad
Recipe from Food Wishes
Creamy shells and shrimp salad is a twist on traditional macaroni salad. Sweet petite shrimp are combined with al dente pasta shells and tossed in a mayonnaise dressing. It is important to note that since this salad is mayonnaise based, it should be kept in the fridge and kept out of the sun when serving.
5 Ingredient Orzo Salad
Photo Credit: Kirk K
Orzo salad is one of my favorite quick and easy side dishes. This versatile dish can be made with just about anything you have hanging out in the fridge but this recipe is one of my favorite combinations. Orzo pasta is tossed in a simple balsamic vinaigrette with tomatoes, spinach, feta cheese and almonds. Orzo salad can be served immediately or enjoyed it chilled, a few hours later.
Grilled Vegetable Pasta Salad
Recipe from Betty Crocker
Memorial Day marks the commencement of grilling season. That means it is time to dust off the barbecue and break out the tongs. While the meat is usually star, that does not mean the side dishes should not be as equally delicious. This grilled vegetable pasta salad is super simple to put together and a guaranteed crowd pleaser.
Blue Cheese Cole Slaw
Recipe from Picture Perfect Meals
Whether your grilling chicken or smoking ribs, you're usually cooking in the sunshine. This coleslaw recipe is a twist on a classic side. Shredded purple and green cabbage with broccoli slaw are mixed with a creamy buttermilk dressing. Chunks of blue cheese are the star of this dish because they add strong cheesy flavor to each bite.
German Style Potato Salad
Recipe from Served from Scratch
German potato salad is vastly different from the creamy American version. Tender red potatoes are tossed in vinegar with chives and smoky bacon. The result is a salad that has a tart bite contrasted by the salty pork and mild onion flavor. Just like with any potato salad, the longer it sits, the better tasting it will be.
Image Sources: