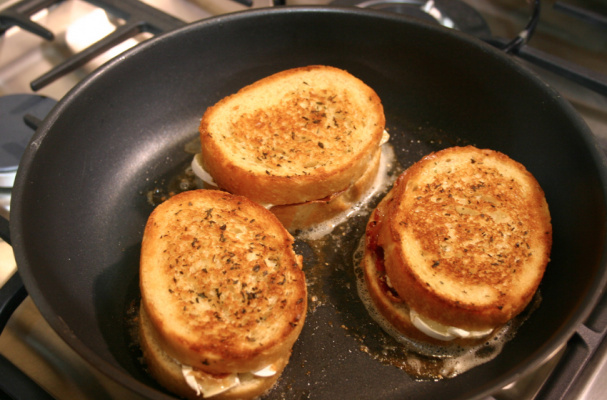 When I am tired and hungry, grilled cheese is my go-to meal because it is quick, easy and satisfying. This garlic grilled cheese sandwich takes this classic comfort food to the next level. Homemade garlic parmesan butter is slathered on the bread before it hits the pan. The sandwich filling is simply white cheddar cheese and tomato. You can certainly serve this sandwich on its own or with tomato soup and garden salad.
Garlic Grilled Cheese Sandwich
Ingredients:
For the garlic butter:
1 stick (1/2 cup) unsalted butter, room temperature
1/4 cup Italian fresh flat-leaf parsley, finely minced
2 tablespoons grated parmesan cheese
2 tablespoons fresh lemon juice
2 garlic cloves, finely minced
1 teaspoon fine sea salt
1/4 teaspoon freshly ground black pepper
For the sandwich:
8 slices of good quality white bread
8 slices sharp white cheddar cheese
1 to 2 tomatoes, sliced
Directions:
Step 1: In a small bowl, combine the butter with parsley, parmesan cheese, lemon juice, minced garlic, salt and pepper. Mix all the ingredients until well combined. Set aside.
Step 2: Spread the garlic butter on one side of each piece of bread. Heat a non-stick frying pan over medium heat. Add one slice of bread (buttered side down) and add one slice of cheese, a slice or two of tomato and another slice of cheese. Place another piece of bread (buttered side up) on top. Once the bottom piece of bread is golden brown (about 1 to 3 minutes), carefully flip the sandwich. Grill the remaining slice of bread and remove once cheese has melted and the bread is golden brown. Repeat this step 3 more times to make the remaining sandwiches.
Step 4: Cut each sandwich in half and serve hot.
Note*: You can use this garlic butter recipe for anything, not just grilled cheese sandwiches. You can add it as a finishing butter when sauteeing chicken, melt it over steamed vegetables, or make some dynamite garlic bread.
Note**: If you want to serve the sandwiches at the same time, keep the prepared sandwiches in a low oven to keep them warm while preparing the rest of the meal.
Image Sources: