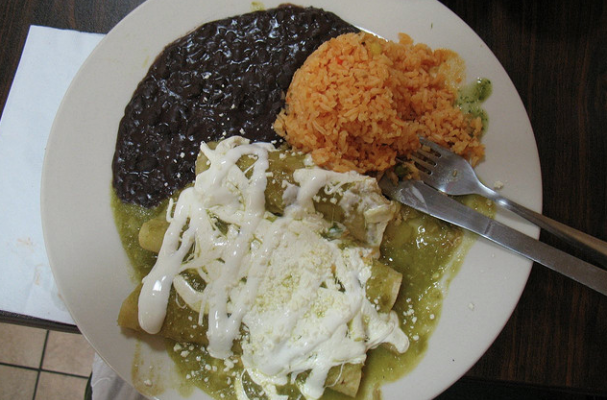 If you are fresh out of ideas for chicken, give this quick and easy green chile chicken enchilada casserole a try. Corn tortillas are layered with a creamy chicken mixture that is studded with fresh cilantro and spiced with cumin. Jarred salsa verde is the sauce of choice but feel free to make your own if time is on your side. This simple yet delicious meal will be apart of the regular recipe rotation.
Green Chile Chicken Enchilada Casserole
Ingredients:
4 cups shredded chicken
1 cup sour cream
1 cup cream cheese, room temperature
1/4 fresh cilantro, finely chopped
1 tsp ground cumin
2 cups shredded Mexican cheese
24 corn tortillas
1 12 oz jar salsa verde
cooking spray
kosher salt and freshly ground pepper, to taste
2 avocados, chopped
Directions:
Step 1: Preheat the oven to 375 degrees Fahrenheit. Spray non-stick cooking spray along the inside of a casserole dish.
Step 2: In a large bowl, combine the chicken with the sour cream, cream cheese, cumin and fresh cilantro. Taste and season salt and pepper if necessary.
Step 3: Place a small amount of salsa to coat the bottom of the baking dish. Layer the corn tortillas on the bottom until covered. Add the chicken and spread it over the tortillas. Top the layer with more salsa and cheese. Continue this process until all the tortillas are gone. The final layer should be the chicken topped with cheese.
Step 4: Cover the casserole with foil and bake for 20 minutes. Remove the foil and bake for another 10 minutes until cheese is bubbly and melted.
Step 5: Allow the dish to cool slightly before serving. Add fresh cubed avocado for garnish.
Image Sources: