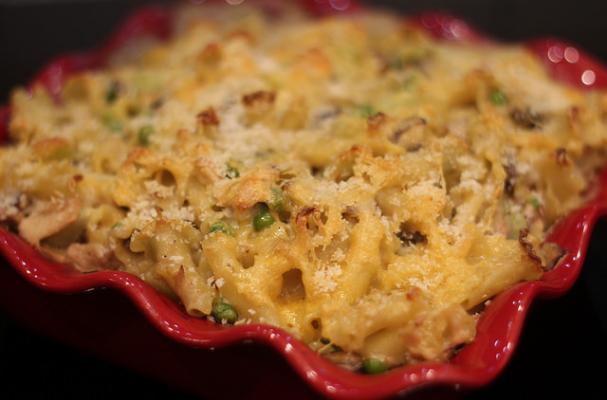 The coming of fall makes me wax nostalgia for comforting meals that Mom used to make, and a classic tuna casserole is one that invariably creeps to the top of the must-make list. Some may snub their nose at such a dish (it's certainly not gourmet), but there's a reason why tuna casserole or tuna noodle casserole, however you may call it, is so omnipresent. It's because it's so darn good! And, for many of us, it hits dead center in the bank of food memories. It's also what I like to call a "multi-function dish" because it satisfies the following:
~You almost always have everything already in your pantry
~It's a quick and easy recipe (so it's perfect for school nights)
~It's a one-pot meal (if you use a pot that can go from stove to oven)
~There's almost always leftovers
~It's a family-friendly dish
Here are the basic ingredients you need for a 4-person serving, though you may certainly doctor up your casserole with the addition of vegetables or toppings. I love adding mushrooms and a good sharp Cheddar cheese.
Basic Tuna Casserole Ingredients:
4 ounces (2 cups) of egg noodles
1 can Cream of Mushroom condensed soup
1/2 cup milk
2 4-ounce cans tuna
Here's my even-more-special (yet still super easy!) Mushroomy Tuna Noodle Casserole recipe. It's crisp on the outside and creamy delicious on the inside!
Ingredients:
4 ounces (2 cups) of egg noodles or the noodle of your choice
Salt for noodle water
A splash of vegetable oil
2 cups sliced mushrooms
1 small onion, diced
3 stalks celery, diced
1 can Cream of Mushroom condensed soup
1/2 cup milk
1/2 cup mayonnaise
1 to 2 cans 4-ounce cans white tuna in water
1 cup frozen peas
Salt and pepper to taste
2 cups (or more) sharp Cheddar cheese, grated
1 cup breadcrumbs
Cooking spray
Directions:
Preheat oven to 400° F.
In a large pot or Dutch oven, bring salted water (salty like the sea) to a boil. Add noodles and cook until tender but not mushy. Drain in a colander and set aside.
In the same pot, add a glug of oil and heat over medium-high. Sauté onions and celery until they begin to soften, then add the mushrooms. Continue to cook until mushrooms are tender.
Add the mushroom soup, milk, mayonnaise, tuna, and peas and stir until combined. Turn heat to a low simmer and cook until heated through, about 5 minutes. Stir in 1 cup of cheese, peas, then stir in the noodles. Taste mixture and season to taste with salt and pepper.
Transfer to a casserole (or bake in the same pot if it's ovenproof), top with the remaining cheese, followed by the breadcrumbs. Then, give the top a quick spray of cooking spray. Transfer to the oven and cook for 20 minutes or until bubbling and golden brown on top.
Optional ingredients: broccoli (cut into bite sized pieces), crumbled potato chips for a crispy topping, seasoned breadcrumbs...