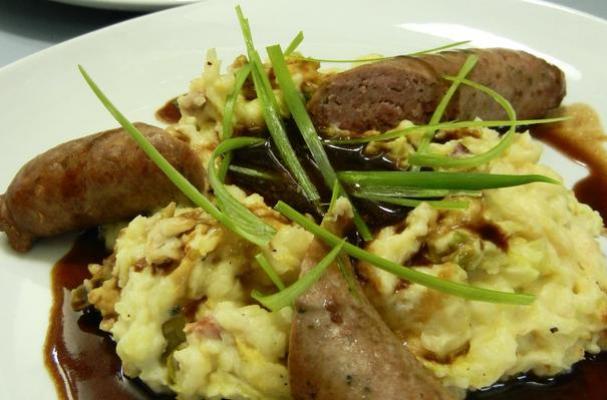 This recipe is so good, it's hard to even write about it without fighting some serious cravings. Colcannon is a truly Irish comfort food that should be a regular dish in everyone's kitchen. Creamy mashed potatoes, crispy bacon, cabbage and onions with a side of bangers and smothered in a creamy, rich brown sugar, Guinness gravy. It's a simple dish that is filling and flavorful. The best kind of recipe to have in your stash. Check out this yummy meal, from Foodista contributor: Lisa Fountain.
Bangers and Colcannon with Brown Sugar Guinness Gravy
1 pound Yukon gold potatoes
4 oz bacon
1 head cabbage
4 spring onions
EVOO
3/4 pound pork sausage
12 ounces Guinness beer
brown sugar
butter
flour
salt and pepper
sour cream
milk
Preparation
My basics tonight were thick cut bacon, sausages, potatoes, and cabbage. Almost everything else I had on hand, so on top of being a celebration of a literary masterpiece, this was cheap enough a meal for even Stephen Dedalus to afford (in today's economy – relatively speaking, that is). Whole Foods used to carry bangers, but when I asked the butcher why I didn't see them in the window, he said no one had ever purchased them or even showed any interest — until they no longer had them. But they did have a non-Italian styled "garlic and pork" sausage, which was mild enough to stand-in for the traditional banger, even if they were larger. I purchased 3, knowing I'd split them later.
I start with my potatoes, which I peel, cut into 8ths, dump into salted water, and bring to a boil for about 15 minutes, or until I can easily pierce them with a fork.
Meanwhile, I dice my bacon and very thinly slice my cabbage.
The bacon goes into a hot pan, along with a generous helping of fresh cracked black pepper, to render all the fat and crisp.
Image Sources: