Jam can be so much more than a sweet, berry filled treat. If you have never tried bacon jam, think of it as the salty, slightly sweet goodness you love, in a spreadable state. Now, even that miracle condiment has gotten even better. The addition of whiskey to bacon jam gives it so much more depth of flavor. It's warms you with every bite.
Try whiskey bacon jam on your bagel. I use it on top of a bit of cream cheese for a delightful addition to my bagel sandwich in the morning.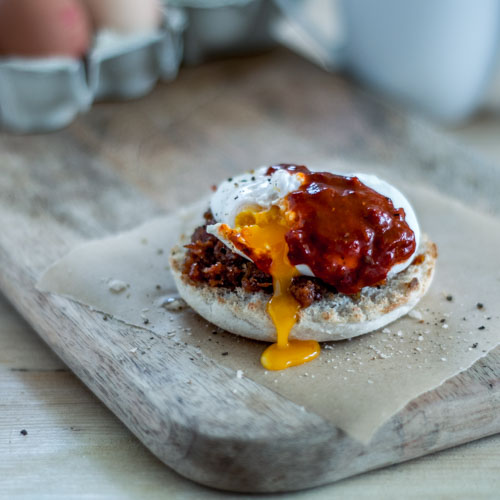 800g streaky bacon, roughly chopped.
2 cups finely chopped shallots
4 cloves garlic, well chopped
1 teaspoon cayenne powder
1/2 teaspoon ground ginger
1/2 teaspoon ground mustard
½ teaspoon paprika
¼ teaspoon black pepper
5 drams of a peaty whiskey
1/4 cup maple syrup or golden syrup (or a blend)
1/3 cup apple cider vinegar
1/3 cup packed light-brown sugar
Preparation
1 In a large pot, slowly cook the bacon. This will likely be in batches. You want the bacon to be very crispy, with much of the fat rendered. Put aside when finished.
2 Next, pour off the bacon fat, keeping only a light layer on the bottom of the pan. Don't clean the pan out though, you want the crispy bits on the bottom. Add the shallots and slowly cook until they smell and add the garlic. Cook for about 5-10min until nice and soft. Add the spices and stir to combine and heat. Add the whiskey and maple syrup (or golden syrup), and bring to a boil. Add the vinegar and sugar, continue the boil for a minute or two.
Image Sources:
Categories: