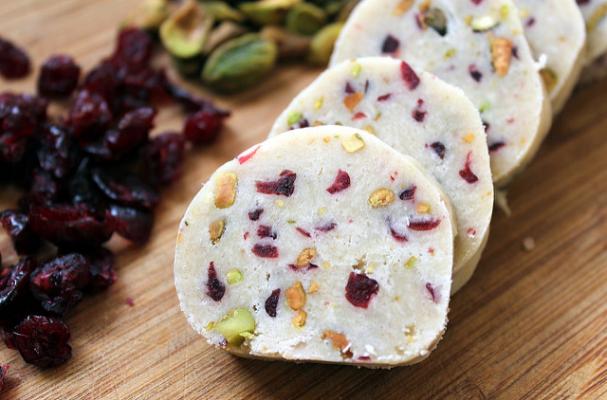 On day 4 of "The 12 Days of Christmas Cookies" I told you that Italian Biscotti, those deliciously hard cookies made for dunking in hot beverages or sweet wine, are my favorite holiday cookie to bake. Well, a nice and spicy gingerbread cookie is way up there on the list too, especially these Belgian Spiced Cookies (known as speculoos or speculaas). Another must-make Christmas cookie (or for any time of the year, really) is a good, buttery shortbread. Everyone loves them and they're yet another wonderful cookie to wrap up nicely in cute little cellophane baggies and give as gifts. I'll make a big batch of savory shortbread, like the cheesy Parmesan Thyme ones below, to serve on appetizer platters, and my Low Sugar Cranberry Pistachio Shortbread are a perfect not-too-sweet cookie to nosh on with a nice cup of tea or a glass of whiskey. You can easily make both recipes gluten free by using your favorite gluten free flour. Feel free to swap out the dried fruit, nuts, cheese and herbs for different combinations.
Low Sugar Cranberry Pistachio Shortbread
3/4 pound unsalted butter, softened to room temperature
1/2 cup Truvia Baking Blend (or other Stevia-based sweetener)
1 teaspoon pure vanilla extract
3/4 cup dried cranberries, finely chopped
3/4 cup pistachios, chopped
3 1/2 cups all-purpose flour
1/4 teaspoon salt
Preheat oven to 350 degrees F.
In the bowl of an electric mixer fitted with a paddle attachment, mix together the butter and Truvia Baking Blend until they are just combined. Add the vanilla extract, cranberries and pistachios and mix.
In a medium bowl, sift together the flour and salt, then add to the butter mixture. Mix on low speed until the dough starts to come together. Dump onto a surface dusted with flour and roll the dough into two 2–inch thick logs. Wrap in plastic and freeze for 30 minutes.
Slice into 1/2-inch rounds and reshape if necessary. Place the cookies on an ungreased baking sheet or Silpat. Bake for 12 to 15 minutes, until the edges begin to lightly brown. Allow to cool to room temperature and serve.
Parmesan Thyme Shortbread

Recipe adapted from the Barefoot Contessa
1/4 pound (1 stick) unsalted butter

3 ounces grated Parmesan

1 1/4 cups all-purpose flour

1/4 teaspoon kosher salt

1 teaspoon chopped fresh thyme leaves

1/2 teaspoon freshly ground black pepper
Using the paddle attachment in your food processor, mix the butter until creamy. Add the Parmesan, flour, salt, thyme and pepper and combine.
Place the dough on a lightly floured surface and roll into a 13-inch long log. Wrap the log in plastic wrap and place in the freezer for 20-30 minutes to harden. Don't let it freeze solid or it will crumble as you try to cut.
Cut the log crosswise into 1/4 to 1/2-inch thick slices. Place the slices on a sheet pan and bake in 350 degree preheated oven for 22 minutes.
The 12 Days of Christmas Cookies Countdown!
Day 1: Speculoos: Traditional Belgian Spiced Cookies
Day 2: 3 Festive Chocolate Bark Recipes You'll Want To Make This Holiday Season
Day 3: A Christmas Macarons Recipe
Day 4: Authentic Italian Biscotti
Day 5: Candy Cane Snowballs