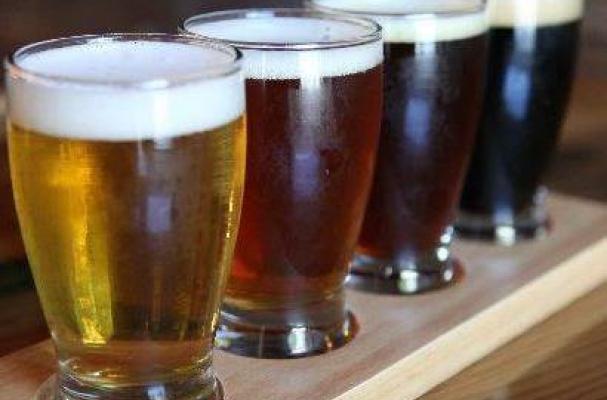 Mountain ranges surround this quaint town of Smithers, population under 6000. If you come by plane from Vancouver British Columbia Canada, it is a 1.5-hour flight to the northwest. Alternatively, perhaps you prefer to enjoy the scenic Great Northern Circle Route.
Cold beverage? Smithers Brewing is the logical first stop for some refreshment. The three founders of the brewery all have local roots and love the area so much that they found it easy to leave steady jobs to start the brewery. First up was the Last Cast Lager, a Munich Helles (German for light/bright) with a light golden color and a pleasant crisp, complex taste. ISA, not IPA? That was a great surprise. The Hudson Bay ISA (India Session Ale) is less hoppy and has less alcohol than the more common IPA. Next tasting was the Strawberry Rhubarb Pie Blond, a perfect summer brew - a lovely light fruit nose and a blonde type of finish. Last up was the Coffee Lager and, if one were so inclined, this might be an excellent starter for breakfast paired with an omelet - the right balance between coffee and lager. My favorite was the Last Cast Lager, but I'm biased to lagers. Smithers Brewing is part of the BC Ale Trail, and we could have happily done more tasting, but dinner time was upon us.
Telly's Grill is a gem! Peter Karnouskos is the owner and head chef with a Mediterranean focus, which is logical given his Greek roots. Much of the inspiration for the restaurant is from his dad's restaurant in the area for many years. Peter admits one of his favorites is dad's recipe for the Fettuccine Alfredo.
We had a big group, and many different entrees were ordered. My highlight was the North Pacific Cold Smoked Sockeye Salmon. So unique! First, it was smoked and then baked with their maple soy ponzu sauce. Moist and of course fresh from nearby Prince Rupert. However, others in the party begged to differ with me. The savory Greek Spanakopita pie was on the list, as was Telly's Baked Lasagna – both favorites of the others in our group. Too full for dessert, we retired to bed very pleased.
The following morning's Smithers discussion continued in earnest. The chair of our coffee group was Gladys Atrill, who is a Councillor and Deputy Mayor for the town of Smithers. She's lived, worked, and been part of the town's tourism since the 1980s. The town of Smithers, named after railway executive Sir Alfred Smithers, is located on the ancestral lands of the Wet 'suwet' en First Nation. Much more on this topic in part 3, which is forthcoming, however, one point of interest is the connection between the First Nation and Father Adrien-Gabriel Morice, who arrived in the region in 1892. Father Morice studied the native language and translated the Catholic catechism and prayers into their language. He also created the first writing system of the language and wrote a bi-monthly newsletter for them. Ironically Father Morice had a hard time following directions from the Church and as punishment was sent to this outpost near Smithers (33.8 km -21 miles to the north). The Father thrived here, and the town for a time the town was known as Moricetown. The Father continued his old ways and was dispatched again, this time to Winnipeg. But he left his mark.
Outdoor fun, yes! Although for this part of the trip we just chatted about hiking and skiing because we needed to move on to other locations. Steelhead fishing is the big prize in the early fall since the Bulkley River is known as the premier Steelhead River in the world. However, other fish are also plentiful. Blaine, from Smithers Brewing, did not join us this morning as he was trying to hook a salmon.
So many hiking trails to choose from! Hudson Bay Mountain range to the west, or Babine Mountain range to the east, take your pick. No worries in the summer, you can hike early and often. In June there are over 17 hours of daylight. Even in early August, there are 15 hours of daylight, and the average high temperature is 23 C (73 F). Babine Mountains Provincial Park has many trails to select from. One hike is Hyland Pass which starts in Driftwood Canyon Provincial Park and then goes to the Babine Mountain Provincial Park. The best part is that it is only a 20-minute drive to the trailhead from Smithers.
Are you a snow powder hound? The Smithers area is part of the North Powder Highway. You have Hudson Bay Mountain Resort which is the local ski hill just outside of town. Ski conditions are great! Temperatures generally stay below freezing, so the snow falls under cold conditions. That is the formula that gives you powder. The ski area has 50 years of serving the ski community of Smithers and is family business. Also, it is unique that Smithers was an established town well before the ski area was developed. That is not the case for many popular ski areas.
Want backcountry skiing or snowboarding? You can go with a guide to the Hankin-Evelyn resort, which is a 30-minute drive from Smithers. The resort was built twelve years ago by Brian Hill and is still run by him. No lifts, so you will earn your turns and enjoy the warming huts to take a break. There are also overnight huts.
Summer-fall-winter-spring - I will need to decide when to return since I know I will be returning!
This is Part 2 of a three-part series. Read Part 1 and Part 3 here.
Editorial disclosure: travel and accommodations were generously provided.
Categories: