Did I get your attention?  Good.  Just trying to be deliberately provocative.   Maybe it was too many college parties with bulk red wine and bricks of generic cheddar that colored my early wine and cheese days, but I think white wines do so much better than reds with cheese.  Yeah, I've had Epoisses with Burgundy IN Burgundy, with atmosphere dripping and charm in abundance, and enjoyed it.  But even with the stinkiest, richest cheeses, I think a dry white, a sparkling wine, or a white with a touch of sweetness just works better with the cheese.  I won't pick on Pinot Noir too much, but big reds with powerful tannins and heavy oak are just plain awkward with cheese.
I encourage you to pick up a variety of rich, creamy, and/or sharp cheeses that purportedly are good with reds and throw a few whites in the mix.  And don't be afraid of a little sweetness, like the kind you find in wines like Vouvray or Riesling (which also have good balancing acidity); I feel that the acidity lasers through the richness and the sweetness tempers the strong, earthy flavors of highly aromatic cheeses.
Here's a slam-dunk, white wine and cheese pairing to get you started, but don't be afraid to experiment. Bring a white to your next wine and cheese party. Shock the world!
A trio of South American whites were fantastic with a fresh, young, soft goat cheese:
2008 Crios de Susana Balbo Torrontes (Argentina)
2008 Veramonte Sauvignon Blanc Reserva (Chile)
2007 Cono Sur Sauvignon Blanc Vision (Chile)
The Torrontes, a floral, aromatic white that reminds me of a lighter version of Viognier, was very good with the cheese but the Sauv Blancs were the star. The high acidity and subtle grassiness of the wines were a perfect compliment to the goat cheese. Stop buying the overly vegetal, stewed green bean-smelling Sauv Blanc from New Zealand; Chile is producing some delicious Sauv Blanc for around ten bucks.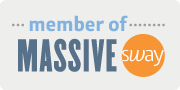 Want more from Foodista? Sign up below!