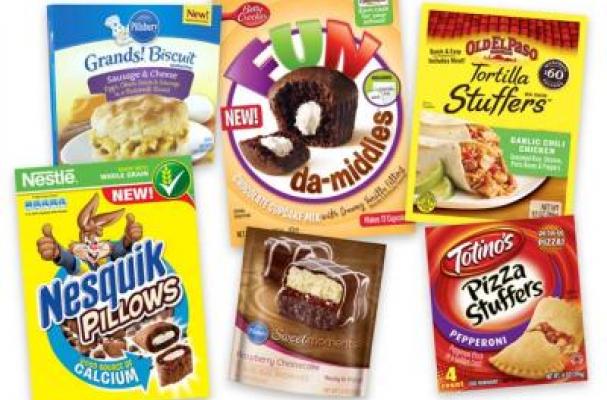 General Mills' latest products, which were unveiled Wednesday, overwhelmingly focus on foods stuffed within other foods. Pillsbury Grands Biscuit Sandwiches, for example, are frozen egg-and-sausage breakfast sandwiches, while Betty Crocker Fun da-middles are a cupcake mix that home cooks can use to make chocolate cupcakes injected with white frosting.
Ted Labuza, a food science and engineering professor at the University of Minnesota, calls these items "dual-texture" foods. "For some reason, people like that kind of stuff -- things that are soft with a filling, or crispy with a filling," he told Tom Webb of Pioneer Press. "It's quite a trend among all companies. Even with pet food."
General Mills' latest dual-texture products will run the grocery store gamut, from cereal and snack bars to yogurt and vegetables. The company's chief executive officer Ken Powell said that General Mills would launch almost 70 items during the 2012 fiscal year -- many of them foods stuffed within other foods. Is this a food trend you can get behind?
Image Sources:
Categories:
Want more from Foodista? Sign up below!