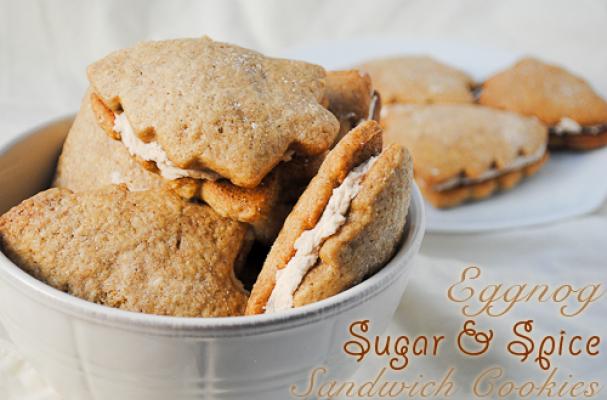 These eggnog sugar and spice cookies from Spork or Foon are a festive holiday treat that everyone will love. They are packed with warm spices like cinnamon, nutmeg, and cloves. The cookies are sandwiched with a sweet and buttery eggnog cream that melts in your mouth. One bite and you'll be tempted to eat the whole batch. These eggnog cookies make great Christmas presents. Arrange them in a decorative tin with a bow and you are done.
Eggnog Sugar and Spice Cookies
(makes about 2 dozen sandwich cookies)
Recipe from Spork or Foon
Ingredients:
2 1/2 cups all-purpose flour
1/4 teaspoon salt
1/2 teaspoon cream of tartar
1/2 teaspoon baking soda
1 teaspoon nutmeg
2 teaspoons cinnamon
1/4 teaspoon cloves
1 teaspoon vanilla
1 stick butter
1 cup granulated sugar
1 egg
1/3 cup eggnog
1 egg white, slightly beaten
granulated sugar
Eggnog Cream Filling
Ingredients:
3 cups sifted confectioner's sugar
1/2 cup vegetable shortening, at room temperature
4 tablespoons (1/2 stick) unsalted butter, cut into cubes, at room temperature
2 tablespoons eggnog
1/2 teaspoon salt
1 teaspoon vanilla extract
2 teaspoon brandy
For recipe instructions, click here.
Image Sources: