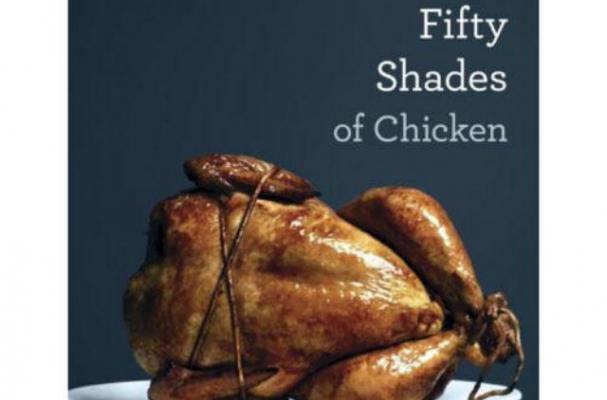 Fifty Shades of Chicken: a parody in a cookbook, is evidently inspired by the many shades of Christian Grey. What most of you are probably wondering, however, is how exactly does a BDSM love story inspire a chicken cookbook?
"Like so many others, Fifty Shades of Grey resonated for me. It evoked something I'd never been able to express," the writer, using the pen name FL Fowler, said. "Then one day as I was tying up the ankles of a chicken for roasting, I realized why some of the scenes in the book were so strikingly familiar. It turns out I've been practicing BDSM for years -- but with poultry."
The author of Fifty Shades of Chicken then went on to compare his relationship with poultry to that of Christian Grey and Anastasia Steele.
"The recipe and head notes follow a chef and his chicken on an emotional journey very much like the original trilogy," the author said. "You start with an overbearing cook and a pigheaded chicken but by the end they're spanking and tying each other up like soul mates. There's a bit of Christian and Anastasia Steele in every dish."
Check out a recipe from Fifty Shades of Chicken below!
Mustard Spanked Chicken
Roasted chicken with mustard, fresh basil, and garlic. Serves 4
1 (3½- to 4-pound) chicken, patted dry with paper towels
1 teaspoon coarse kosher salt, more to taste
½ teaspoon freshly ground black pepper
2 tablespoons Dijon mustard
2 teaspoons minced fresh basil
2 garlic cloves, minced
3 tablespoons extra-virgin olive oil
Directions
1. Rub the chicken all over, including the cavity, with the salt and pepper.
2. In a small bowl, stir together the mustard, basil and garlic, and slap it hard onto the bird everywhere you just rubbed the salt and pepper. Refrigerate overnight or for at least 1 hour so it can recover.
3. Preheat the oven to 400 degrees F. Place a rack in a roasting pan.
4. Carefully lay the bird on the rack, breast down. Drizzle with 1 tablespoon of the oil. Roast for 30 minutes. Thrust a wooden spoon into the chicken cavity and flip the bird over so the breasts are up; drizzle with remaining oil. Continue to roast until the bird is golden brown and quite done, about 30 to 40 minutes longer. Enjoy.
Image Sources:
Categories: