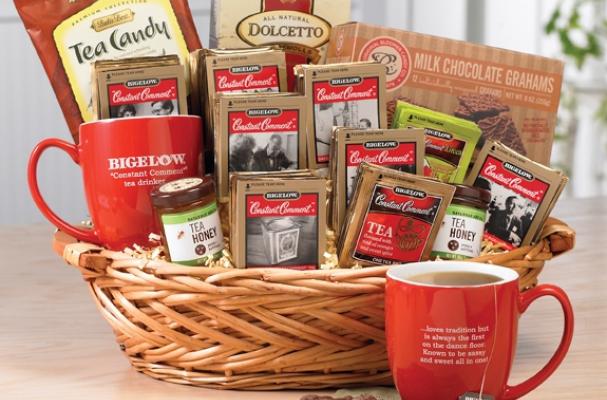 Foodista and Bigelow Tea have joined forces in the kitchen to create a fun sweepstakes for food and tea lovers! Enter for a chance to win a Foodista Best of Food Blogs Cookbook or the grand prize, a spectacular limited edition Constant Comment"® Personali-Tea Basket like the one shown! The basket comes complete with "Constant Comment" tea bags in limited edition overwraps that commemorate vintage moments in its long history and 2 exclusively designed ceramic 16 oz Bigelow "Constant Comment" Tea Personali-tea mugs. Also included are 9 ounces of what are possibly the best chocolate covered graham crackers ever tasted, 4.4-ounce chocolate wafer rolls, 5.3-ounce Tea Candy and two 3-ounce jars of Savannah Bee Tea Honey.
Enter the sweepstakes on the Bigelow Tea Facebook page by "liking" the page and clicking on the sweepstakes icon under their cover photo. Sweepstakes ends at midnight EST on November 30th!
Tea isn't just for drinking! Watch Bigelow Tea president Cindi Bigelow whip up some delicious recipes from a Cosmopolitan Cocktail to Orange Cupcakes to Roasted Chicken with Tea Glaze, all with Constant Comment tea. Find more delicious cooking with tea inspiration on Bigelow here.
Categories: