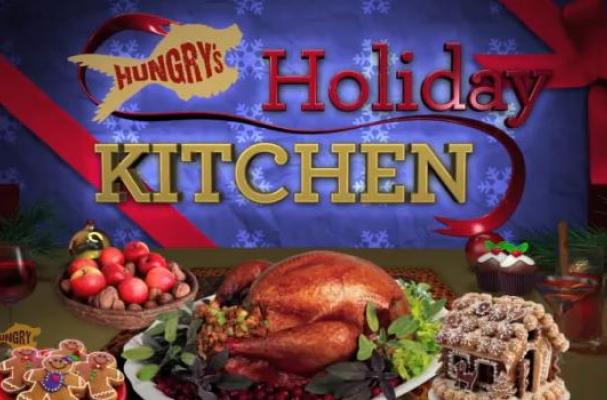 No festive party is complete without a big bowl of punch, so The Beer Chicks and Drink Inc. guys join forces in HUNGRY's Holiday Kitchen to stir up some Ginger Beer goodness. Made with whiskey, port, lemon juice and ginger simple syrup, this holiday libation really packs a…punch! Watch the video and get the recipe below:
HUNGRY's Holiday Kitchen: Ginger Beer Punch
Ginger Syrup:
2 cups unpeeled fresh ginger, roughly chopped
2 cups sugar
6 cups water
Punch:
12 ounces Black Grouse Blended Whisky
8 ounces fresh lemon juice
4 ounces Tawny Port
4 ounces ginger syrup
2 750-milliliter bottles of Lindemans Peche Lambic Beer
1 large block of ice
2 lemons, sliced for garnish
Ginger Syrup
Put ginger in a food processor and pulse until finely chopped. Add ginger, sugar and water to a large pot, bring to a boil then reduce to a simmer and cook for one hour or until the mixture has thickened into a syrup. Strain syrup through cheesecloth or a fine mesh sieve and refrigerate to cool.
Punch
In a large punch bowl, with a large block of ice, add all the ingredients except the beer and stir to combine. Top with beer and garnish punch with lemon slices.

Subscribe to HUNGRY for more delicious videos!