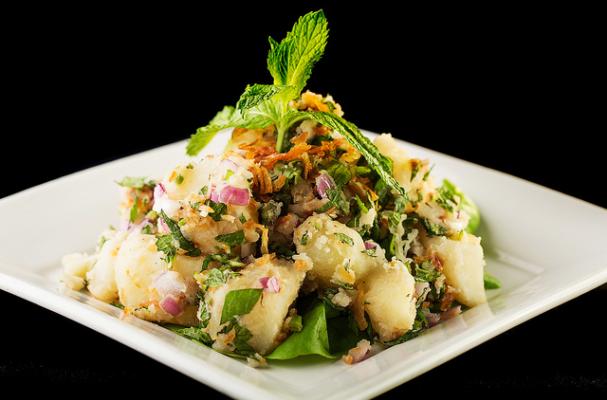 This potato salad recipe comes from Seattle's renowned Wild Ginger, a wildly popular Asian restaurant featuring authentic and traditional dishes spanning the eastern Pacific Rim from China to Indonesia, and Malaysia to Vietnam. Executive Chef Jacky Lo gives an Asian twist to the traditional potato salad recipe by incorporating fish sauce and shrimp paste, key ingredients in Asian cuisine that are not tasty on their own, but heavenly when combined with other ingredients. His salad also has a kick of spice from green chilies, and a pop of herby freshness from mint. It even has bacon! Give this delicious salad a try at your next party.
Burmese Potato Salad
Dressing:
4 tablespoons oil (use the oil that you fried the shallots in below)
4 tablespoons tamarind juice
½ teaspoons shrimp paste
3 tablespoons fish sauce
1 tablespoon sesame seeds, toasted and pounded

Salad:
1 lb Yukon gold potatoes
2 oz white onion, chopped
2 green chilies, seeded and finely minced
1 tablespoons shallots, fried until golden in 4 tablespoons oil
½ C mint, rough chopped
2 slices bacon, cooked and minced
Prepare dressing in jar and shake. Steam or boil potatoes until tender and let cool slightly. Peel and cube potatoes while they're still warm. Toss warm potatoes with dressing and all other ingredients. Serve immediately as part of a multicourse event.
Categories: