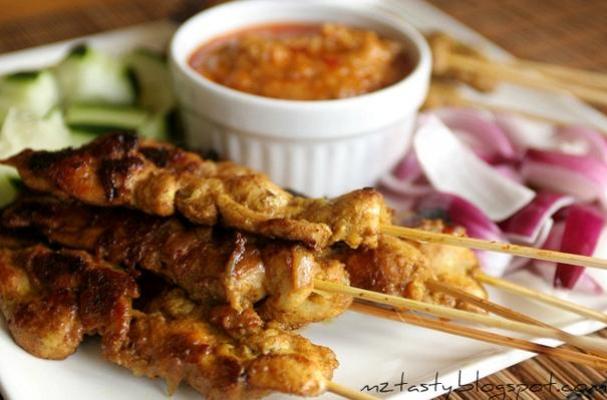 Satay is a classic dish of richly spiced skewered meats found across Southeast Asia. This Malaysian-style chicken satay would make a spice trader sing! A medley of spices - cumin, cinnamon, coriander, curry, turmeric - are blended together with lemongrass and sugar for a marinade that's bursting with flavor. The peanut dipping sauce also packs a powerful sweet and spicy punch of Asian flavor! Serve these delicious skewers as an appetizer or as your main meal.
Malaysian Chicken Satay With Peanut Sauce
Submitted to Foodista by Mz Tasty Kitchen
For the chicken and marinade:
3 pounds chicken thigh meat
2 teaspoons cumin powder
1 teaspoon cinnamon powder
5 shallots, diced finely
2 teaspoons coriander powder
2 teaspoons tumeric powder
2 tablespoons curry powder
1 1/2 tablespoons sugar
1 tablespoon oil
1 teaspoon salt
2 stalks lemon grass, crushed
oil for basting
bamboo skewers, soak overnight with a drop of oil
Peanut sauce ingredients:
300 grams raw skinless peanuts, roasted
2 teaspoons ginger powder
2 teaspoons galangal powder
1 inch onion, cut chunks
2 stalks lemon grass, grind finely
4 tablespoons chilli paste
1/2 cup brown sugar
½ cup tamarind paste (or 3-4 Tbsp. tamarind, mix with water to get about ½ cup)
2 tablespoons oil
Cut meat into 1-inch strips, drain and set aside. In a bowl mix cumin, cinnamon, shallots, coriander, tumeric, oil, curry powder, sugar and salt together to form a smooth paste. Marinate the meat well with this mixture. Pierce meat on bamboo skewers. Set aside in refrigerator.
Peanut Sauce:
In a pan on medium heat, pan roast raw peanuts till golden brown. Cool, and grind peanuts to resembles like breadcrumbs. Set aside.
Mix the ginger, galangal, onion, lemon grass, brown sugar and chilli paste to a paste. Heat 1 Tbsp. oil and fry mixture till fragrant until a thin layer of oil forms on top of mixture. Lower heat and add tamarind juice and let it simmer for about 5 minutes. Add sugar and 3/4 of the peanuts. If mixture is too thick, add a little more tamarind juice and a little more sugar if you like it sweeter. The taste should be spicy hot with a balance of sweet and sour taste.
Prepare charcoals for grilling. Grill meat over burning coal, constantly basting with cooking oil over the meat using the crushed lemon grass as a brush. Turn chicken over and baste with oil. Grilled till cooked on both sides.
To serve, arrange a few sticks of satay on a plate, accompanied with peanut sauce, cucumber, onions, and compressed rice (ketupat).