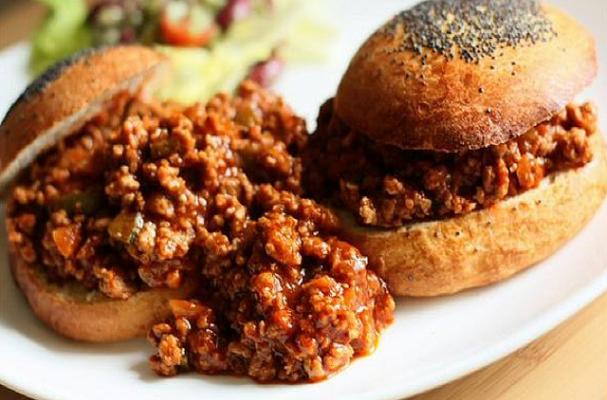 Oh, how we love a good ole classic Sloppy Joe! This all-American dish of ground beef, onions and a slightly sweet tomato sauce spooned over hamburger buns takes us back to our childhood. But this comfort food dish isn't just for kids. This meal satisfies bellies big and small!
All American Sloppy Joes
Submitted to Foodista by Angie's Recipes
1 tablespoon Olive oil
2 Garlic cloves, minced
2 Shallots, chopped
1/2 Green bell pepper, diced
Salt and freshly ground black pepper
450 grams (1 pound) Ground beef
180 grams (~1/2 cup) Tomato sauce
100 grams (~1/4 cup) barbecue sauce
2/3 tablespoon Worcestershire sauce
1 teaspoon Hot sauce
4 Homemade burger buns, split, toasted, and buttered
Heat the olive oil in a large skillet. Add in minced garlic, shallots, and green bell pepper. Stir until fragrant and tender, about 3 minutes. Season it with salt and black pepper.
Add the ground beef to the vegetables. Stir and cook about 5 minutes, until the meat is no longer pink and fully cooked. Add tomato sauce, barbecue sauce, Worcestershire, and hot sauce into the skillet. Stir to combine. Simmer until thickened.
To serve, spoon and pile sloppy meat onto the toasted, buttered bun bottoms and cover with bun tops with your favourite side dish or pickles.