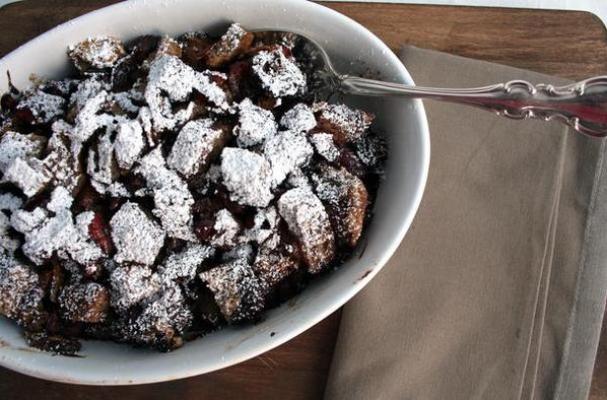 This recipe for cherry chocolate bread pudding uses bread scraps and crusts you can save up over time in your freezer. Semi-sweet chocolate, brandy, cherries and cocoa nibs create an irresistible marriage of cherry-chocolate heaven.
Cherry Chocolate Bread Pudding
Submitted by Food+Photography
Ingredients:
4 ounces Semi Sweet Chocolate, roughly chopped
2 cups Bread (Crusts), any kind, whole wheat, flax, 1 cup Milk (Soy, if you're allergic)
1/2 teaspoon Vanilla
1 tablespoon Brandy
3 tablespoons Sugar
1 tablespoon Arrowroot Powder, cornstarch will work as a substitute
Pinch of Salt
1 cup Fresh Cherries, pitted & roughly chopped – dried may be substituted when out of season
3 tablespoons Cocoa Nibs, very optional but quite delicious
Image Sources:
Want more from Foodista? Sign up below!