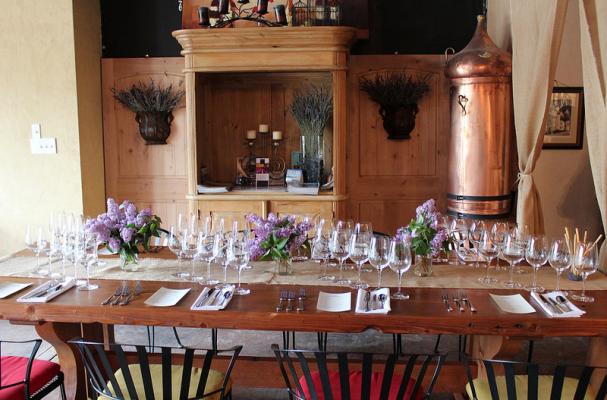 This year, Yakima Valley will celebrate its 31st anniversary as an American Viticultural Area (AVA), the first in Washington State. The Appellation, which includes more than 60 wineries, straddles the Yakima River and covers an 80-mile stretch of countryside through Yakima, Zillah, Prosser and the Red Mountain area. But this region began cultivating wine grapes long before, in fact as early as 1917, and many of those original vines are still producing fruit. Even with this rich history, the self-described "Palm Springs of the Northwest," also widely known for their apples, is among the most overlooked wine regions in the country. On a recent trip to the area we learned firsthand what makes this area so special and why it should be moved to the top of your wine travel must-taste list.
This 3-part series will give you a virtual taste of Yakima Valley's exceptional wines and wineries. Be sure to read all about Day 2: Discovering the Great Wines in Prosser, Washington here and our final Day 3: Yakima Valley's Craft Spirits, Great Wine, and An Award-Winning Pale Ale here.
The Perfect Balance
What makes the Yakima Valley the perfect place to grow wine grapes? The short answer is climate and irrigation. While those of us in Seattle may experience clouds and rainfall, as you head over the beautiful snow-capped Cascade Mountains and into the Yakima Valley, you'll see picturesque blue skies with nary a cloud to be seen. In fact, this high desert region gets only about 7-8 inches of precipitation a year (that makes us Seattleites weep with envy). Snowmelt from the Cascades dumps into the region's river ways, which is then carefully applied to vineyards. Lots of sun is also necessary to help vines grow and develop. But where Yakima Valley really shines is in its dramatic day to night temperature differences. If the growing season's temperatures were uniformly steady the grapes would lose their natural acidity, resulting in what some refer to as "flabby" wines. But 80-degree days that dip down into the 50s at night help grapes retain their natural acids which makes for more flavorful wines. According to the wine classification system developed by the University of California at Davis, the Yakima Valley AVA (rated as a Region II) is on par with the Bordeaux region in France. Realtors say it's all about "location, location, location." Yakima Valley's perfect balance of sun, water, and hot and cold temperatures make this one location that's hard to find anywhere else on earth. And their wines reflect this heavenly balance.
Day 1 of our wine tasting journey…

J Bell Cellars and Lavender
Our first stop took us to the family-run J Bell Cellars and Lavender in Zillah. The winery, named after owners Natasha and Wes' children, Jason and Bella, is surrounded by countless lavender bushes and a picturesque view of Mt. Adams, making this the perfect place to escape and enjoy a glass of wine and an elegant lunch. J Bell produces limited quantities of handcrafted Rhone and Bordeaux varietal blends sourced from Yakima Valley's best vineyards. With their beautiful copper lavender distiller, they also produce a number of lovely culinary and home lavender products.
We started off with a Meek Family Estate 2011 Grenache, a beautiful soft-on-the-palate wine with just the right balance of berry and spice. We then sat down with Wes and Natasha, along with fellow winemaker friends Tad and Sarah Fewel of Cultura Wine, for an amazing food and wine pairing lunch prepared by Chef Monique Wendt, owner of Crave Culinary Arts.
The first course paired a lush and fruity 2013 Viognier (Marcela Vineyard) with a stunning Ahi Tuna Tower followed by a crisp and slightly fruity 2013 Fumé Blanc (Meek Family Estate) with a poached egg-topped Arugula Salad. Next came a beautiful bacon-wrapped porcini-crusted beef tenderloin topped with spring's just-picked fiddlehead ferns paired with J Bell's 2011 SPL (Simple Pleasures of Life), a gorgeous blend of three different Merlots, Cabernet Sauvignon and Cabernet Franc.
Ending this decadent meal was a Holy Trinity of chocolate: a lavender truffle, a dark chocolate mousse with a salted caramel sauce, and an olive oil crostini with Nutella, truffle oil and caramelized almonds (if I were hard-pressed to choose a favorite the crostini would win). The perfect accompaniment to these treats was J Bell's 2011 Cabernet Frank (Cabernet Franc from the Meek Family Estate), named in honor of Wes' Uncle Frank.
Reflection Vineyards
Just down the road from J Bell was our next stop at Reflection Vineyards, owned and operated by Kent and Allison VanArnam. Reflections is a small-batch (less than one thousand cases per year) vineyard and winery with stunning views of both Mt. Adams and Mt. Rainier. The founders planted the vines themselves (in fact, Kent single-handedly removed 6,500 fruit trees to make room for grapes!) and built the winery and tasting room themselves. They produce a Syrah, Cab, Viognier, and Melange, a blend of 66% Cab Sauvignon, 32% Syrah and 2% Merlot. Their Melange is a fan favorite and was the top of my list, too! It was smooth with deep notes of fruit and just the right balance of tannins. All of their red wines are made from free-run wine (wine drained straight from the fermenting bins), thus producing the highest quality available.
Treveri Cellars
I'm a big fan of sparkling wines so I was thrilled when we stopped for a Bubbly Happy Hour at Treveri Cellars in Wapato. Of the 800 wineries in Washington, Treveri Cellars in the only winery focused exclusively on sparkling wine. Their unique offerings include a Sparkling Syrah Brut and their ever-popular Sparkling Rosé. In fact, their Sparkling Rosé was invited to be poured for the third time at a US Department of State dinner by personal invitation of Secretary of State John Kerry and his wife. Other wines in their portfolio include an Extra-Brut "Blanc de Blanc," a "Blanc de Blanc" Brut, a Sparkling Pinot Gris, a Sparkling Mueller-Thurgau (a hybrid between a Riesling and Gutedel grape), a Sparkling Riesling, and a Sparkling Gewürztraminer. You can expect bright acidity and perfect alcohol in their Champagne-style wines. It's hard to believe that all of their fabulous sparkling wines are under $20 a bottle!
Aside from great wines, it's the passionate people who make this region so unforgettable. Be sure to check out our second day of wine tasting in Prosser, Washington, and our final day of enjoying Craft Spirits, Great Wine, and An Award-Winning Pale Ale in Yakima Valley.
Getting around…
Let Eric Miller, owner of WineriesExpress.com, be your designated driver! Wineries Express helps connect customers with producers in an upbeat, educational, entertaining and safe manner. Wineries Express is a charter service offering individuals, couples, and small groups tours to be driven in comfort and safety across the many estates in the Yakima area while offering wine education and ambassadorship. Click here for more information and to reserve a coach.