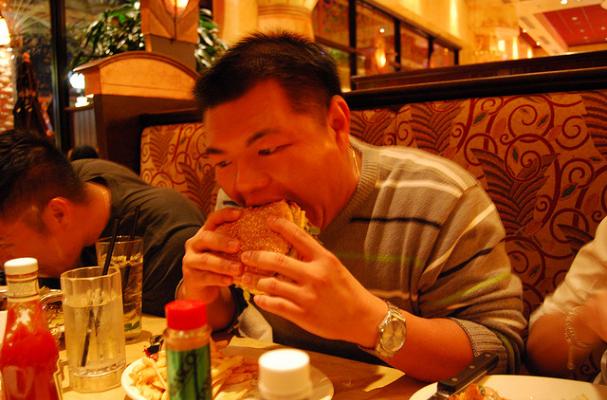 The CPSI has handed out their yearly Xtreme eating awards, which pretty much outline why we have diabesity crisis in this country. These "meals" go beyond the extreme, and into the realm of GROSS and REALLY? These menu items make me wonder if these chains are in cahoots with big pharma.
Some of the high, er low lights....
Denny's Meltdown
Yep, your whole body will have a meltdown if you eat four fried mozzarella sticks, melted American cheese, and two pieces of sourdough toast! This is nothing but an inflammation creating celebration of gluttony, which contains 1,260 calories and 3,700 mg of sodium.
Cheesecake Factory-Code Red
More like code blue, which is what's gonna happen if you dare to eat this cake. It's essentially equal to two red velvet cupcakes and two slices of cheesecake. This enemy of healthy blood sugar levels, weighs in at 1,540 calories and 60 grams of fat.
Cheesecake Factory-Farmhouse Burger
Take an already protein-rich burger and then top it with pork belly, cheddar cheese, AND a fried egg. Next, watch as your digestive system screams for mercy. Your 1,590 calories comes with a 1,460 mg side of sodium.
Applebee's'-Provolone Stuffed Spaghetti and Meatballs
Mama's meatballs get an obesity-inducing update by stuffing them with cheese, but that's not all. You then need four cups of pasta, marinara and parmesan cream sauce, and of course a side of garlic bread. 1,520 calories and 3,700mg or two days worth of sodium,
Image Sources: