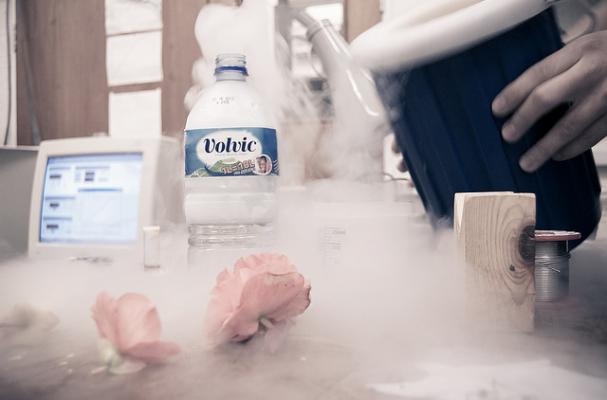 Perhaps one of the coolest new cooking techniques, and also one of the least understood, involves liquid nitrogen. Pouring the super cold liquid over food causes them to "flash freeze." The technique allows for many "cool" dishes, including quick and easy ice cream.
That idea has spawned at least two new liquid nitrogen-based ice cream shops, on opposite ends of the country. In 2009, one woman hit the streets of San Francisco in a modified Radio Flyer wagon. Using liquid nitrogen, she was able to create ice cream for customers in under 60 seconds. That wagon has since spawned Smitten Ice Cream and their first shop (located at 432 Octavia St. in Hayes Valley). Using locally sourced ingredients and rotating list of flavors, the store embraces seasonality and promises the freshest ice cream possible. Check out their video about how they make their ice cream.
But this is by no means just a West Coast phenomenon. Nitro Ice Cream operates on similar principles as Smitten, but runs out of two Long Island locations (currently). In spite of their amateur-looking website, the company is already poised for big things. Sean Pomper, who owns the shops, tells The Village Voice that he plans to open two more shops in Long Island and will also open two stores in Manhattan as well. According to the company site, stores are planned in Chicago, Miami and Los Angeles as well. Liquid nitrogen looks like it's becoming ready for the spotlight!
Oh, if you ever wanted to try making ice cream with liquid nitrogen at home, here's how:
Image Sources: