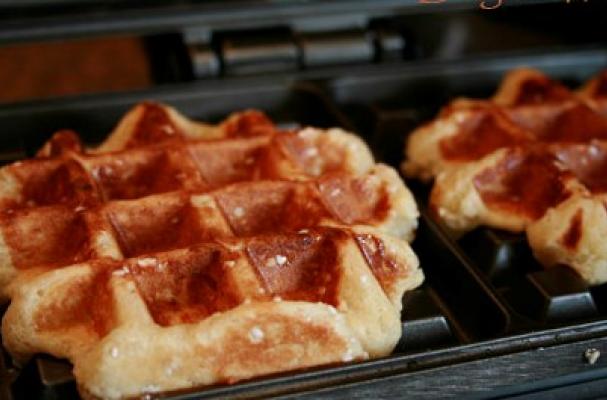 Apple cinnamon waffles are a scrumptuous breakfast that everyone will love. The batter has a secret ingredient, grated apples! These waffles are served with a drizzle of maple syrup and caramel sauce.
Apple Cinnamon Waffles
Recipe from Bourbonnatrix Bakes
Ingredients:
1 cup all-purpose flour
1 cup whole-wheat all purpose flour
1 tbsp sugar
1 tsp cinnamon
pinch grated nutmeg
1 1/2 teaspoons baking powder
1 teaspoon baking soda
1/2 teaspoon salt
1 cup sour cream
1 cup whole milk
3 eggs
8 tablespoons butter melted and cooled
1 cup grated apples (2 apples)
Directions:
Preheat your waffle iron on medium-high heat.
In a large bowl, combine the flours, sugar, cinnamon, nutmeg, baking powder, baking soda, and salt. In a smaller bowl, whisk together the milk and sour cream, and then whisk in the eggs. Pour the wet ingredients into the dry, and stir just until combined. Fold in the butter, and then the apples, stirring minimally.
Pour 1/4 cup of batter per waffle onto the iron and cook until the waffles are a light golden brown. Keep cooked waffles warm on a platter in the oven.
Serve waffles with maple syrup or caramel syrup.
Image Sources: