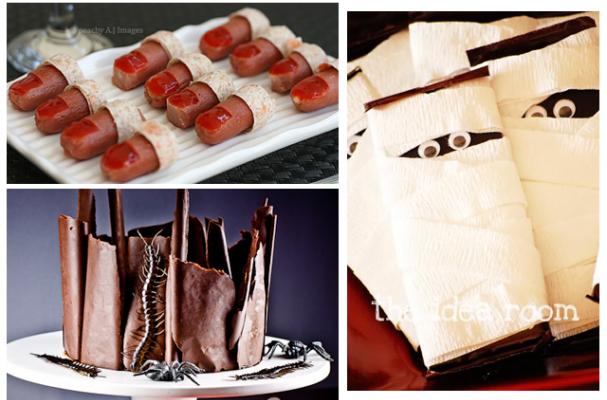 Here are 3 more terrifying Halloween treats to tantalize your guests! Serve severed fingers as a starter, hand out mummified candy bars to your trick or treaters or serve up a spooky Black Forest cake to your ghoulish guests! Happy baking!
Halloween Black Forest Cake
This classic dark chocolate cake infused with cherries and cream gets a serious makeover for Halloween! Easily gluten free if you substitute your favorite GF all purpose flour or baking mix!
Severed Fingers
A great quick and easy breakfast or savory snack/appetizer! Hot dogs are cut into pieces, wrapped with a tortilla "bandage" and with a bloody ketchup wound - eek! Gluten free & milk/dairy free.
Mummy Birthday Party Ideas
This site has tons of ideas for a mummy-themed party! From mummy wrapped chocolate bars (great for trick or treaters!) to mummy cupcakes, hotdogs and more! Tons of glteun free ideas!
Image Sources: