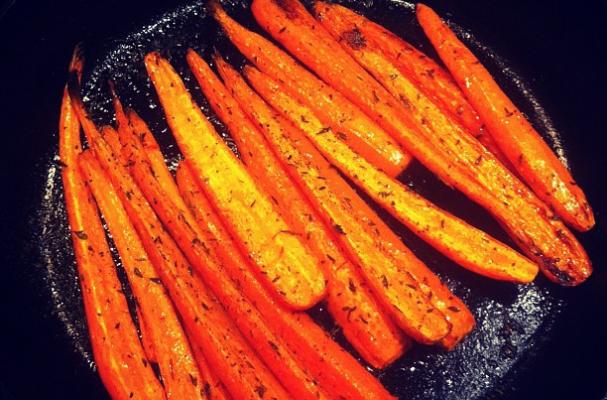 If you are doing some last minute menu planning for Easter, these simple maple glazed carrots are an awesome side dish. This recipe only requires three ingredients and only takes 20 minutes to make. Since there are such few ingredients in this dish, you'll want to use the best quality you can find. This means buying real maple syrup (grade B has the deepest flavor), using good quality olive oil and getting the best carrots you can get your hands on. Maple glazed carrots are sure to be a hit at your Easter celebration.
Maple Glazed Carrots
Ingredients
1 lb carrots, peeled and cut into 1 in pieces
1 1/2 T olive oil
1 T pure maple syrup (preferably grade B)
salt and pepper to taste
Directions:
Preheat oven to 400 F
Peel carrots, then cut into 1 inch pieces. Try to make sure that they are all roughly the same size and thickness.
Add olive oil to a large oven-proof pan and heat to medium. Add the carrots and saute them 3-5 minutes, or until the surface looks slightly blistered and starting to color.
Turn down heat to low and stir to coat carrots. Season with salt and fresh-ground black pepper.
Put pan (or transfer to a cookie sheet) into the oven and roast carrots for 10-15 minutes, or until they look slightly browned.
Image Sources:
Categories: