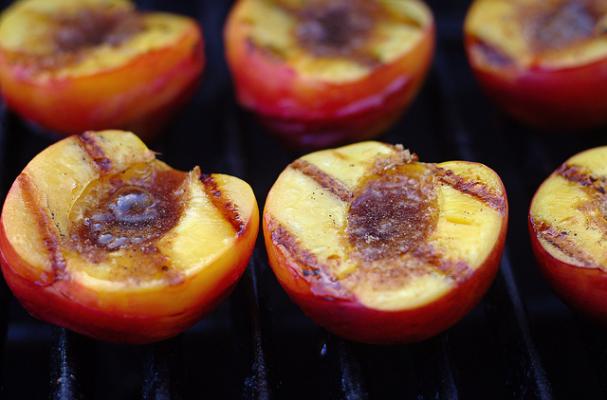 Grilled peaches with honey and goat cheese is a classic summer dessert. On the grill, the fruit becomes soft and caramelized and takes on a mild smoky flavor. You can do this same cooking technique with almost any large fruit, nectarine and pineapple are especially delicious. The peaches provide a nice contrast in flavor to the goat cheese, sweet and tart. If you want to add a bit more texture, crumble some graham crackers or amaretti cookies over the top.
Grilled Peaches with Goat Cheese and Honey
Ingredients:
4 fresh peaches, halved and pits removed
6 ounces chevre goat cheese
1 tablespoon honey
2 tablespoons skim milk
8 mint leaves
Directions:
Heat grill to medium. Combine cheese, honey and milk in a small bowl. Grill peaches cut side down until sugars begin to caramelize and leave grill marks. Fill each with about 1 tablespoon of cheese mixture. Top with mint leaves and serve warm.
Image Sources: