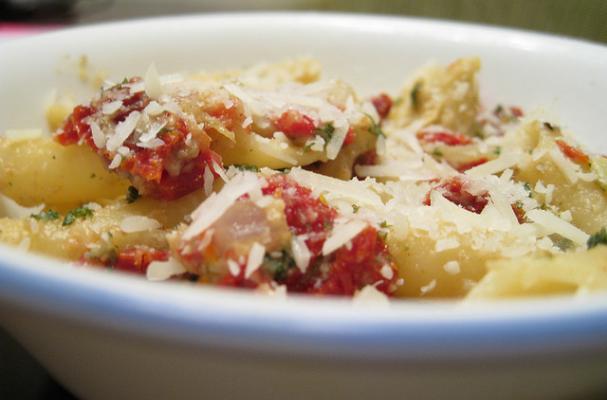 Pasta salad with sun dried tomato and basil vinaigrette was meant for summertime eating. This is a dish that can be taken on a picnic, potluck, or any outdoor gathering. Pasta is cooked until al dente and tossed in a flavorful vinaigrette made with sweet sun dried tomatoes, fresh basil, olive oil, and garlic. You can make extra of the sauce and use it to toss with a simple green salad or pour it over grilled veggies. This pasta salad gets better as it sits so make it a day in advance if possible.
Pasta Salad with Sun Dried Tomato and Basil Vinaigrette
Ingredients:
For the Salad:
1 cup mini bow-tie pasta boiled al dente (or mini cavatelli, or fusilli)
1 small red onion- diced (similar size to the pasta )
1/2 green bell pepper- diced
1 Roma tomato
3 cloves garlic- crushed and minced
1 tablespoon olive oil
coarse black pepper
1 teaspoon salt
1 teaspoon dried Italian seasoning
1 tablespoon red crushed pepper (or put to taste)
1/2 cup mini fresh mozzarella balls (or just cubed into small pieces)
Parmiggiano Reggiano cheese- for garnish
For the Vinaigrette:
3 sun-dried tomatoes- from a jar packed in oil
1 tablespoon capers
1 clove garlic- crushed
1 tablespoon dried basil leaves (or ½ cup fresh basil would be amazing!)
1 tablespoon red wine vinegar
1/4 (about) olive oil
1 teaspoon salt
coarse black pepper
red crushed pepper- to taste
Directions:
Fill a large pot 3/4 full of water, sprinkle with a pinch of salt and spray with PAM, and bring to a boil over high heat. Add pasta and boil till al dente. Drain and set aside.
In a medium pan spray with PAM and add oil, set over medium-low flame. Add onions, peppers and garlic. Sprinkle with salt, pepper, red crushed pepper and Italian seasoning (crush seasoning in your palm before adding to release the flavors). Saute until cooked through and onions are caramelized. Add the warm veggies to the warm pasta and mix lightly. Add the vinaigrette and mix until well combined. Add mozzarella cheese, mix and put in the fridge to cool.
For the Dressing:
Add sun-dried tomatoes, garlic, basil, vinegar, salt, pepper, red crushed pepper and capers to a blender/food processor. Pulse until well combined and chopped up.
While grinding on a constant low, drizzle in the olive oil to create an emulsion. Grind until well combined. Taste for salt.
Image Sources: