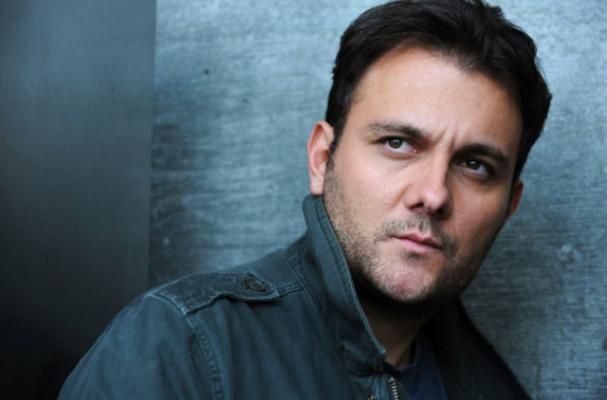 Actor Stelio Savante (best known for his role in Ugly Betty) recently adopted a gluten-free diet after being diagnosed with Celiac disease. Savante shares his journey of changing his lifestyle while continuing to maintain his busy schedule.
"Out of necessity, going gluten free became a lifestyle for me. It has relieved me of pain, healed my organs and improved my quality of life and I'm glad to see many people without Celiacs [are] on gluten-free diets," he said.
Savante talks about living with Celiac disease, what his daily diet consists of and which foods he misses the most. Check it all out below!
How long have you been following a gluten-free diet? Was the transition difficult?
Since I was first diagnosed with Celiac's disease back in the fall of 2010. It was challenging in the beginning. I had to educate myself on Celiac's, learn my new diet, and change where I bought my food and my restaurant selection became very limited. After the first few months it did become easier. Don't know where we'd be without Trader Joe's, Whole Foods and Sprouts food markets.
There were certain difficulties with some foods/milks that claimed to be gluten-free but were not good for people with Celiac's -- like Trader Joe's gluten-free hemp milk which made me very sick and brought back a lot of the sharp, stabbing abdominal pains. Hemp is not good for people with Celiac's but information is not easily available or updated that often. Celiac's and gluten intolerance are different so I have to constantly research the latest developments and list of foods to avoid.
How has the new diet helped to combat symptoms of Celiac disease?
Well, the disease attacked my organs. Mostly my liver. And because there's no cure, one has to wait and see the results of a gluten-free diet. I'd been eating gluten for 40 years, and it will take several years for all the inflammation and gluten to leave my body. And that's without any setbacks. But the new diet has helped reverse most of the inflammation, I'm now pain free in my abdominal area and I have more energy, more stamina, sleep better, have better skin, and do not get sick as often. I also lost weight but during periods of inflammation it can come back.
What does your daily diet include?
I mostly juice organic fruit/vegetables/berries for breakfast. My wife and I love our new Vitamix blender. Also, I will sometimes have organic yogurt with organic blue agave and walnuts/cinnamon. Lunch is usually either a protein based salad (either turkey, beans or tuna), or sushi/sashimi with Tamari sauce (I can't have soy sauce as it contains wheat). Dinners include omelettes, vegetable soups, & we also eat a lot of fresh Vietnamese. Once a month we'll do some kind of pasta (either quinoa flour pasta or corn flour pasta).
Snacks throughout the day include nuts, roasted seaweed, Wasabi peas, dried fruit & hard boiled eggs. My favorite snack is biltong and droewors (both South African types of beef jerky which is available here in LA at the European Deluxe Sausage Kitchen). And I drink a ton of water!
What were you surprised about most when learning about gluten-free foods?
That they are more easily accessible and less expensive than most people think they are. And once I'd eaten them, they tasted so much better than food processed with wheat. I actually taste my food a lot more now.
What is the biggest downside about your new diet?
Not being able to spontaneously eat my favorite foods of old. Like oatmeal, biscuits, pizza, bagels, pasta, certain rice, bread, etc.. Although all of these are available gluten-free (they are made with different flours) except for oatmeal. Celiacs cannot eat oats and certain grains, the pain is unbearable. Pizza Cookery here in LA has a gluten-free menu and we like to take our daughter there. But having a very limited restaurant selection is also frustrating.
What foods do you miss eating the most?
All the bad carbs, literally.
Do you cook at home? What is your specialty?
Yes absolutely. Omelettes. I really enjoy making them with different combos. Like broccoli, cheese and cilantro, or mushroom, avocado and cheese. I also love cooking Portobello's. The bigger, the better. A great substitute for burgers. I'm allowed red meat but mushrooms are healthier.
What kinds of food do you order when dining out?
Mostly sushi, steak, or gluten-free Chinese food. Unless we go to a gluten-free restaurant and LA has a few.
Is it hard to follow a gluten-free diet while on movie sets and traveling for work? How do you make it work?
It's becoming easier. There are more Celiac and gluten intolerant people being diagnosed. Not just actors but crew. So caterers are offering other options and my agents let productions know ahead of time. But I always pack gluten-free snacks and gluten-free protein bars whenever I travel. I just filmed in Holland and South Africa and almost exclusively stuck to fish and meat without sauces.
It got comical in Durban, [South Africa]. I brought with [me] several packets of gluten-free roasted seaweed. I was eating it at an outdoor café and someone thought I was licking and then eating green stamps. Often I'll be shooting not that far from Outback or PF Chang's, so they'll order it for me. I travel with my Tamari sauce too! And airport lounges have a wide enough selection of food that I don't go hungry while traveling.
What would your perfect meal consist of?
Sliced grass fed steak with spinach and squash and a side dish of corn pasta with garlic, olive oil and cilantro. All with a glass of South African wine, anything by Cape Classics who are available here in the States.
Stelio Savante can be seen in upcoming movies, 'Jimmy' and 'Stealing Roses'. To hear more from Savante, visit him on Twitter.