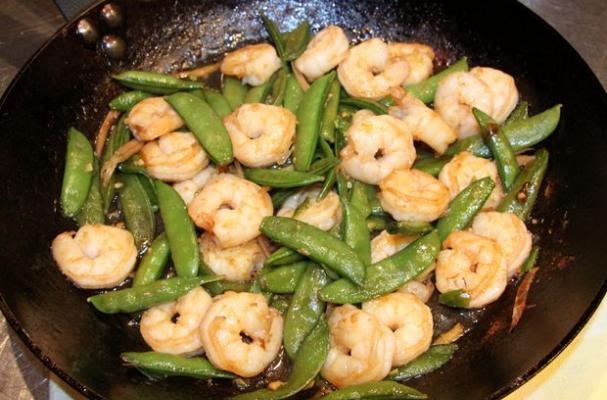 Garlic and ginger stir-fried shrimp with snow peas from Giangi's Kitchen is a quick and easy dish for any night of the week. Succulent shrimp are cooked in just seconds in the wok with garlic, ginger, and soy sauce. Sweet and crunchy snow peas are added for color and flavor. If snow peas are unavailable, substitute with sugar snap peas, English peas (cook only for 15 seconds), or even small broccoli florets. Serve this shrimp stir-fry with steamed white rice.
Garlic and Ginger Stir-Fried Shrimp with Snow Peas
Ingredients:
½ cup chicken stock
2 tablespoons soy sauce
2 garlic cloves, smashed with salt
1 teaspoon cornstarch
2 tablespoon vegetable oil
¼ cup fresh ginger, cut into fine matchsticks
½ pound sweet snow peas
1 pound medium shrimps, shelled, deveined and tail removed
2 small scallions, thinly sliced on the diagonal
Steamed rice on the side
Directions:
In a small bowl, whisk the chicken stock with the soy sauce, smashed garlic and cornstarch.
In a large skillet heat the vegetable oil until hot. Add the ginger matchsticks and stir fry over moderately until they are softened, about 1 minute.
Add the snow peas and stir fry until they are crisp-tender and the ginger is beginning to brown, about 2 minutes.
Add the shrimps and stir fry for 1 minute. Add the scallion and cook for 30 seconds.
Whisk in the soy –chicken stock sauce to the skillet and stir fry until the shrimps are opaque and the sauce is thickened, about 1 minute more.
* Instead of the garlic you can use 1 teaspoon of Chinese chili-garlic sauce.
* Shrimps from Pete at Personal Gourmet Foods.
Image Sources: