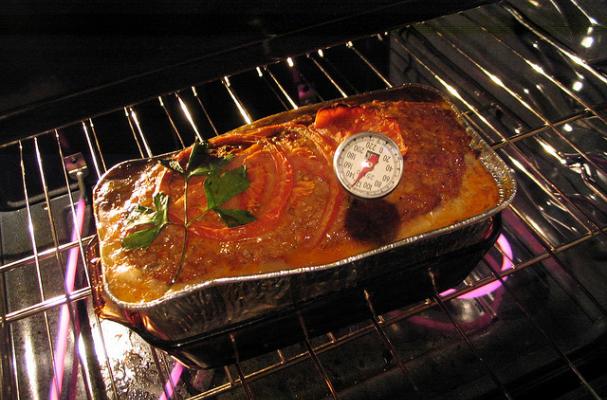 Make tonight meatloaf night with this awesome recipe for cheese stuffed meatloaf. Ground turkey is flavored with garlic, onion, and a slew of Cajun spices. This meatloaf has a hidden surprise - in the middle is melted mozzarella and cheddar cheese so each bite is packed with cheesy goodness. To complete the meal, serve your meatloaf with roasted garlic mashed potatoes.
Ingredients:
2 Onions, chopped
2 cloves Garlic, minced
1 tbs. oil
1/2 cup bread crumbs
2 pounds ground turkey
1 egg, lightly beaten
1/2 cup parsley, chopped
1 (8 ounce) can tomato sauce
3/4 teaspoon ground cumin
3/4 teaspoon red pepper flakes
1/2 teaspoon dried thyme
1/2 teaspoon dried sage
1 green pepper, diced
4 ounces cheddar cheese, sliced
4 ounces mozzarella cheese, sliced
Directions:
Combine bred crumbs, turkey, egg, parsley, tomato sauce, cumin, red pepper flakes, thymes, sage and green pepper in bowl.
Add onions and garlic.
Place half of meat mixture in non-stick loaf pan.
Arrange half of cheddar and mozzarella cheese over meat mixture.
Fill pan with remaining meat mixture.
Top with remaining cheese.
Bake at 350 degrees for 1-1/2 hours or until the middle of the meatloaf reaches 165 degrees F.
Image Sources:
Categories: