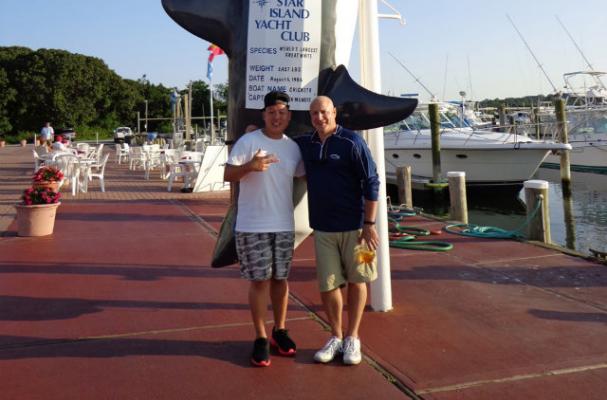 Tom Colicchio has recently ventured outside of his role as judge on Top Chef for a new web series called Hooked Up. The online show follows Colicchio has he goes on fishing adventures with various celebrities, which makes for a relaxed and candid interview. I had the chance to talk with Colicchio about the new series and his Thanksgiving plans. Check it out below!
Can you tell me a little bit about Hooked Up?
It's just like doing an interview show, but I think it's interesting putting people in a situation they are really comfortable with and they just relax or they're not comfortable with and their nervous energy sort of brings out things in the conversation.
I love to fish, I've been doing it since I was five-years-old, and there's just something about being out on the water that I think is very relaxing. And you know, fishing, to me, is really about just getting out there and spending the time on the water. It's not so much about the catch, although that's the point... and it's not so much about eating because I catch and throw back. And so I wanted to combine the two.
I'm thrilled we could do it on YouTube because I don't think any cable channel or network would actually fund something like this... But more importantly, I think that in the time you spend out there, you can really have a different conversation than sitting across a desk with someone. Also, it's about responding too... it's about paying attention to what the other person is saying and having follow-up questions to that.
You mentioned that you started fishing at a very young age. Is there one memory of fishing that stands out as your favorite?
I don't think there is one, there are so many. I started fishing with my grandfather and I think they let me go at such a young age because someone had to keep him awake on the ride home. So it was sort of my job he didn't fall asleep -- if I'd see his eyes start to close I would just nudge him.
Is there an interview on Hooked Up coming up that you are really excited for people to see?
We've only done one other so far, we're doing one a month. The next one is Andy Cohen, from Watch What Happens [on Bravo], he's our next one. He has very little experience fishing and we had a very good day. So that's the next one. So far, we only have two.
What do you think viewers will get out of watching Hooked Up that they won't necessarily get out of a typical talk show?
I think they get to see a different side of the subject. Too often, people are really guarded when they go to a talk show. They are thinking about their brand or what their message is. I think when you're fishing, you kind of relax. And so I think all of those barriers are broken down.
Most people when they come out, they're not expecting to get a tough question or get pressed about something. Even though we had a light conversation, Eddie [Huang] and I, I had to press him on this whole issue he has with Marcus Samuelsson. He's really outspoken going after other chefs. Marcus, who is very well known in the industry, very well liked in the industry... he gives a lot back and to go after him is just so -- most chefs just kind of shook their heads and thought 'what's wrong with this guy?' I was going to let that moment go by because [Eddie] and I were having a good time, but on the other hand I wanted to just find out what his issue is. I don't think he was expecting that from me.
Check out the first episode of Hooked Up featuring Eddie Huang below!
A lot of people online seem to want to know why it has taken you so long to pursue your own show outside of Top Chef.
I think part of it is, there are things I am working on all the time, but I think if you look at Top Chef I guess it's every bit of my show as a show could be. Also, I don't have any kind of desire to go out and prove myself. I never wanted to do a cooking show. Partly with this show, they wanted me to do a catch and cook show which I had no desire to do at all. And so I just wanted to do something that was mine. Something that makes sense. Something that has some meaning, something that's worthwhile.... I guess I'm not interested in a show that's about me. That's just who I am.
Speaking of Top Chef, can viewers expect to see any surprises this season?
Yeah, there's always something unexpected. I think there are some controversial things that happen.
Do you have any advice for people this Thanksgiving that are looking to create the perfect holiday meal?
Don't get so wrapped up in creating the perfect anything. The day should be time to spend with your family and friends and it's not about the 'perfect' -- what does that mean?... It's not about that. I think if you can get the turkey to the table hot then that's good enough.
How will you be spending Thanksgiving?
We do spend a little time in the morning helping people who are less fortunate. I think I am going to my mother-in-law's, I don't think I'm cooking this year. But not because I didn't want to.
What is your favorite Thanksgiving dish?
I like the stuffing that I make. It's a little different. Golden raisins, I use sausage and pork belly. And only because I get scraps around the restaurant, I sneak some foie gras scraps and use that too. Sage, chestnuts, some thyme. (With a bit of digging, I found the recipe here!)
Stay tuned to the Reserve Channel on YouTube for the second episode of Hooked Up! In the meantime, you can see Tom Colicchio on Top Chef: Seattle which airs Wednesdays on Bravo.