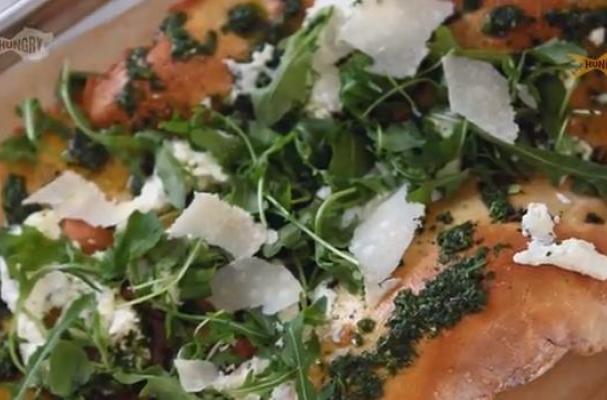 Alex Thomopoulos from Hungry YouTube walks us through making a fantastic gluten free flatbread pizza that anyone can enjoy! Watch the video and get the recipe below.
Gluten-Free Flatbread with Pesto, Homemade Ricotta, Arugula and Parmesan - Gluten Free with Alex T
Homemade Ricotta:
3 1/2 cups whole milk
1/2 cup half and half
1/2 teaspoon salt
3 tablespoons lemon juice
Pesto:
1 1/2 cups fresh basil
1 cup fresh parsley
2 garlic cloves
1 tablespoon fresh lemon juice
1/2 teaspoon salt
1/2 cup extra virgin olive oil
Gluten-Free Flatbread:
1/4 cup gluten-free cornmeal
1/2 cup lukewarm water
1 1/4-ounce packet active dry yeast
1 teaspoon sugar
3/4 cup all-purpose gluten-free flour blend, (recipe below)
3/4 cup tapioca flour, plus more for rolling dough
2 tablespoons dry buttermilk powder or dry powdered milk
1 teaspoon agar-agar powder or unflavored gelatin powder
1 teaspoon salt
1 teaspoon xanthan gum **
1 1/2 teaspoons cider vinegar
2 teaspoons olive oil, plus additional to brush dough
Salt and pepper
4 sprigs thyme, leaves removed
2 cups arugula
Parmesan cheese shavings
Homemade Ricotta
1.Combine milk, half and half, and salt in a medium saucepan over medium-low heat. Slowly heat the mixture to 190F using a candy thermometer, stirring occasionally to prevent scorching. Remove the saucepan from the heat and add the lemon juice, stirring once or twice to just combine. Let the mixture sit for 5-7 minutes.
2.Line a colander with a few layers of cheesecloth and place it over a large bowl. Pour the separated milk mixture through the colander and let the curds strain for at least an hour. After the curds have strained remove the fresh ricotta to an air-tight container and refrigerate up to 4 days.
Pesto:
1.In a bowl of a food processor combine all the ingredients except the olive oil. Pulse until the mixture is finely chopped. With the motor running, slowly add the olive oil and mix until smooth. Place in an airtight container and refrigerate until ready to serve or up to 1 week.
Gluten-Free Flatbread:
1.Preheat oven to 400F. Line a baking sheet with parchment paper and sprinkle with gluten-free cornmeal.
2.In a small liquid measuring cup stir to combine the lukewarm water, yeast, and sugar. Let the mixture stand for 5-10 minutes, until the yeast starts to foam.
3.In the bowl of a stand mixer fitted with a paddle attachment thoroughly combine the flour blend, tapioca flour, dry buttermilk powder, agar-agar, salt and xanthan gum. With the mixer on low speed add the vinegar, olive oil and yeast mixture. Turn the mixer up to high and mix dough 3-4 minutes. If the dough is dry and not coming together add up to a 1/3 cup additional water, 1 tablespoon at a time, until the dough just combines.
4.Remove dough to a large clean surface that is dusted with tapioca flour. Roll the dough to 1/8-inch thick and approximately the size of the sheet tray. Transfer the dough to the parchment paper sprinkled with gluten-free cornmeal. Brush the dough with olive oil, season with salt, pepper and thyme leaves. Bake in the oven for 10-15 minutes until the dough is completely cooked through, and the edges have become crisp and golden brown.
5.Remove the flatbread from the oven. Spread an even layer of pesto over the flatbread, top with ricotta, arugula, and Parmesan shavings.
**Note: If you are using a different all-purpose gluten-free flour blend than the recipe below check to see if the recipe contains xanthan gum. If the recipe does not contain any xanthan gum add 2 teaspoons to this recipe instead of 1 teaspoon.
Alex's All-Purpose Gluten-Free Flour Blend
3 1/2 cups brown rice flour
1 1/2 cups sweet rice flour
1 1/3 cup tapioca starch
1 cup sweet sorghum flour
2/3 cup cornstarch
1/2 cup potato starch (not potato flour)
4 teaspoons xanthan gum
1.In a large bowl thoroughly whisk to combine all the ingredients. Store in an airtight container until ready to use.
Yield: 8 cups
Subscribe to Hungry for the best culinary videos on the web!
Find Hungry on Facebook
Hungry on Twitter
Alex's website Against the Grain
Alex on Twitter @AlexThomopoulos