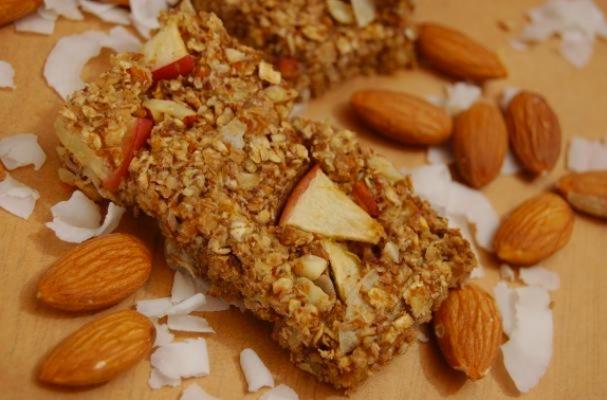 Apple pie granola bars from A Kitchen Addiction is a healthy way to start the day. These homemade granola bars are crunchy, chewy and absolutely delicious. Rolled oats are combined with flax seed, oat bran, and wheat bran to form the base. Finely chopped bits of apple and shredded coconut add a fruity flavor. Apple pie granola bars are a grab and go breakfast that you can feel good about.
Ingredients:
2 1/2 C rolled oats
1/4 C ground flax seed
1/4 C oat bran
1/4 C wheat bran
1/2 tsp salt
2 tsp baking powder
1 tsp cinnamon
1/3 C sugar substitute
1/4 C flaked coconut (I used unsweetened but it'd be fine to use sweetened.)
1 C non-fat milk
1/4 C honey (I prefer less sweetness in my granola bars, so if you like sweet, you may want to add more.)
1 egg, lighten beaten
1 tsp vanilla extract
1 small apple, finely chopped
2/3 C almonds, chopped
Directions:
1. Preheat oven to 350. Spray 9x13 pan with non-stick cooking spray
2. In a large bowl, stir together the oats, flax seed, oat bran, wheat bran, salt, powder, cinnamon, sugar substitute, and coconut until well combined.
3. Add in the milk, honey, egg, and vanilla. Stir until combined.
4. Stir in the apples and almonds.
5. Press into pan. Bake for 15-20 minutes or until edges start to brown.
6. Let cool for 10 minutes, then cut into bars. Let cool completely.
Image Sources: