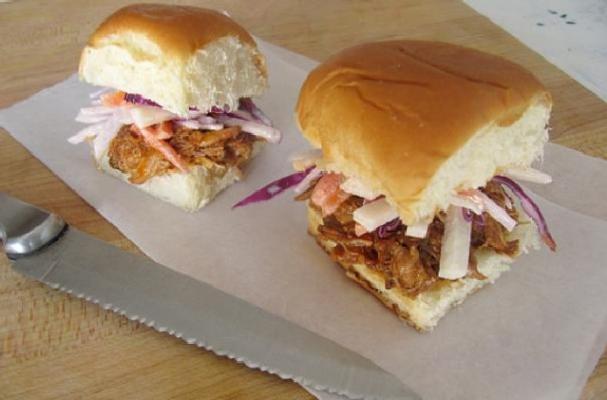 Pulled pork sliders with jicama slaw from Home Skillet are a tasty Superbowl bite. The long ingredient list may seem daunting but this pulled pork recipe is made in the slow cooker. Instead of using bottled barbecue sauce, you'll combine various ingredients to make your own including ketchup, apple cider vinegar, Worcestershire sauce, brown sugar and more. Nestle the pulled pork on sweet Hawaiian rolls with a spoonful of crunchy slaw.
Pulled Pork Sliders with Jicama Slaw
Ingredients:
For the pulled pork:
3-4 pound pork shoulder, bone in
½ teaspoon kosher salt
½ teaspoon freshly ground black pepper
2 tablespoons unsalted butter
3 cloves garlic, minced
1 shallot, chopped
1 jalapeno, minced
20 ounce container ketchup
1 tablespoon apple cider vinegar
1 teaspoon maple syrup
1 teaspoon brown sugar
1 tablespoon Worcestershire sauce
1 tablespoon liquid smoke
1 bottle beer (we used Fat Tire amber ale)
King's Hawaiian sweet rolls
Frank's Red Hot Sauce (optional)

For the slaw:
2 cups julienned red cabbage
1 cup julienned carrot
2 cups julienned jicama
2 teaspoons walnut oil
½ teaspoon apple cider vinegar
¼ teaspoon salt
1 ½ teaspoon lime juice
2 tablespoons sour cream
Directions:

Sprinkle salt and pepper on the pork shoulder then place in crock pot.
In a medium pot over medium heat, melt the butter.
Add the garlic, shallots, and jalapeno and sauté until soft (about 3 minutes).
Stir in ketchup, vinegar, maple syrup, brown sugar, Worcestershire sauce, and liquid smoke.
Simmer for 3 minutes, until the sugar has dissolved.
Stir in the beer, and then pour the entire mixture over the pork shoulder in the crockpot.
Turn on high and cook for 6.5 hours, or until the meat is falling off the bone.
Place the cabbage, carrot, and jicama in a large bowl.
In a small bowl, stir walnut oil, apple cider vinegar, salt, lime juice, and sour cream.
Pour the walnut oil mixture over the vegetables and toss to coat.
Refrigerate until serving time.
To assemble, cut King's Hawaiian sweet rolls in half, and stack with pulled pork, hot sauce, and jicama slaw.
Image Sources: