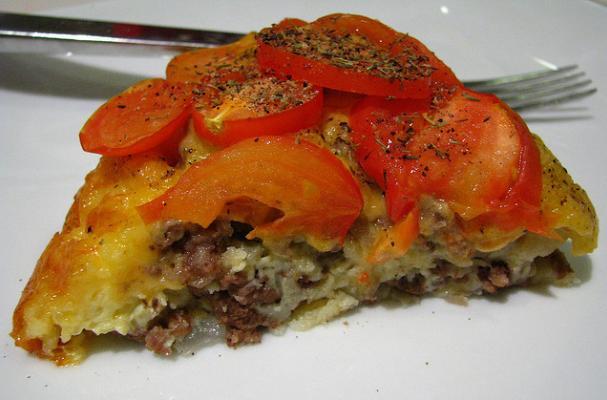 It might not be grilling season yet but you can still enjoy the flavors of a cheeseburger in this quick and easy casserole. Ground beef is cooked with onion until browned. The meat mixture is then topped with a cheddar cheese biscuit dough made from boxed mix. This stress-free dinner will allow you to spend more time with the family instead of on the food.
Cheeseburger Casserole
(A.k.a Cheeseburger Pie)
Ingredients:
1 lb lean ground beef
1 large onion, chopped (1 cup)
½ teaspoon salt
1 cup shredded Cheddar cheese (4 oz)
½ cup Original Bisquick® mix
1 cup milk
2 eggs
Fresh tomatoes, sliced (optional)Directions:
Heat oven to 400°F. Spray 9-inch glass pie plate with cooking spray.
In a 10-inch skillet, cook beef and onion over medium heat 8 to 10 minutes, stirring occasionally, until beef is brown; drain. Stir in salt. Spread in pie plate or casserole dish. Sprinkle with cheese.
In a small bowl, stir remaining ingredients with fork or wire whisk until blended. Pour into pie plate or casserole dish.
Bake about 25 minutes or until knife inserted in center comes out clean.
Image Sources: