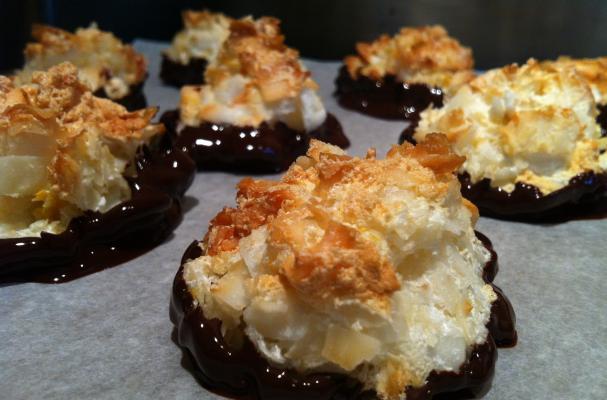 Gluten-free chocolate coconut macaroons are low calorie cookie. This wheatless dessert is made by mixing unsweetened shredded coconut (gluten-free please) with sugar, lemon zest, and egg whites. The freshly baked cookie is dipped in chocolate for a finishing touch. With less than 80 calories per cookie, you can indulge and enjoy a few.
Gluten-Free Macaroons
Recipe Courtesy of Jessica Gluten Dairy Free Kitchen
Ingredients:
3 egg whites
3 tablespoons caster sugar (ultra fine sugar)
3 cups shredded unsweetened coconut (I use Bob's Red Mill)
1 1/2 teaspoons lemon zest
5 ounces dark chocolate block (72% dark) - or more if desired, for dipping
Directions:
Preheat oven to 325 degrees F
In a stand mixer with the whisk attachment on high speed, mix egg whites for about 3 minutes until very frothy.
Slowly add the sugar along the inside edges while it's whisking.
After another 2 minutes as it is looking like a meringue, add the lemon zest, whisk another few seconds until combined.
Gently fold in shredded coconut.
Prepare 2 parchment lined baking sheets.
With a tablespoon, pick up about a tablespoon of the meringue and pack it lightly (kind of like a meatball) just so it holds a shape.
Place on baking sheets about an inch apart. Continue until completed.
Bake until golden, 25-30 minutes.
Let it cool before dipping in chocolate.
Set a saucepan over medium heat, when the water is simmering place a glass or heatproof bowl over the saucepan.
Make sure the bowl does not touch the water.
Add about 5 ounces, or more if you like, of dark bark chocolate into the bowl and stir until completely melted.
Let it cool for 10 minutes then dip the bottom of the cooled macaroons and place on the cooled baking sheets that you used for the macaroons.
Image Sources: