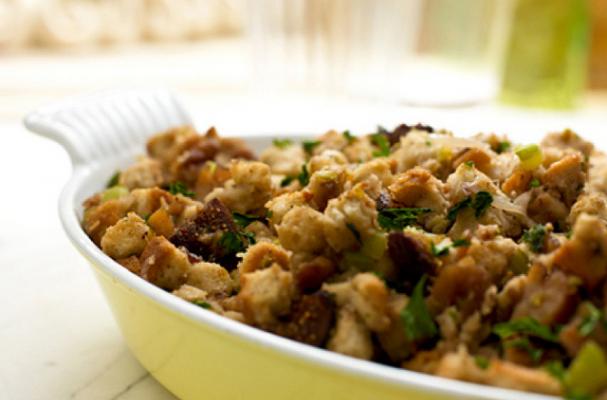 For a twist on the traditional turkey stuffing, try one with the perfect balance of sweet and savory. This delectable Chestnut, Fig and Honey Stuffing recipe takes only 20 minutes to prepare (only an hour to cook) and serves up to 12 people. Your guests will love this tasty dish and you'll love how easy it is to make!
Chestnut, Fig and Honey Stuffing
Courtesy of Campbell's Kitchen
Serves 12
16 dried figs, stems removed, cut in quarters (about 1 cup)
2 stalks celery, diced (about 1 cup)
2 tablespoons honey
4 cups Swanson® Chicken Broth
1/2 cup chopped fresh parsley
1 package (12 ounces) Pepperidge Farm Herb Cube Stuffing
Heat the oven to 350°F.
Heat the butter in a 3-quart saucepan over medium heat. Add the shallots, chestnuts, figs and celery and cook until the celery is tender, stirring occasionally.
Stir the honey and broth in the saucepan and heat to a boil. Remove the saucepan from the heat. Add the parsley and stuffing and mix lightly. Spoon the stuffing mixture into a greased 3-quart casserole. Cover the casserole.
Bake for 30 minutes or until the stuffing mixture is hot.