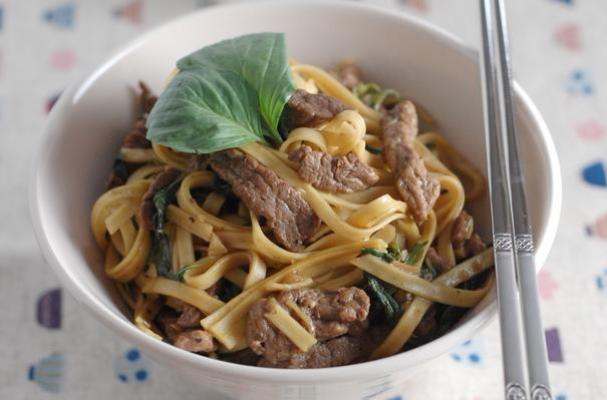 Satisfy your hunger with a tasty bowl of Asian-style beef and noodles from My Cooking Hut. Garlic, a bit of spicy red chili for heat, and the Holy Trinity of Asian sauces - soy, fish and oyster - come together with tender, thinly sliced beef and egg noodles for a flavorful stir fry that is both easy and satisfyingly delicious!
Basil & Black Pepper Beef With Egg Noodles
Submitted to Foodista by My Cooking Hut
200 grams (about 7 ounces) dry egg noodles
3 cloves of garlic (chopped)
Some freshly cut red chilies
A good handful of Basil
300 grams (about 3/4 pound) of thinly sliced beef
2 1/2 tablespoons dark soya sauce
1/2 tablespoon oyster sauce
1 tablespoon fish sauce
Freshly ground black pepper
About 100ml (a scant 1/2 cup) water (to use with corn flour)
Some olive oil
2 teaspoons of corn flour
Cook the dry egg noodles according to the packet. About 2-3 minutes as they will be used later for stir-frying. Drain and set aside.
Make sure the wok/pan is hot. Drizzle some olive oil.
Put in the chopped garlic. Cook until fragrant. Then, put in the cut chilies.
After that, put in the sliced beef. Stir.
While the beef is cooking away. Mix Oyster sauce, Fish sauce, dark soya sauce and black pepper in the water.
Once the beef is almost cook, pour in the sauce mixture and give it a good stir.
Adjust your seasoning if needed.
To thicken the sauce a bit, mix the corn flour in water (about 1 tbsp). Pour in the sauce and stir. You will notice the sauce becomes less watery.
Put in the cooked egg noodles and mix well.
Serve warm.