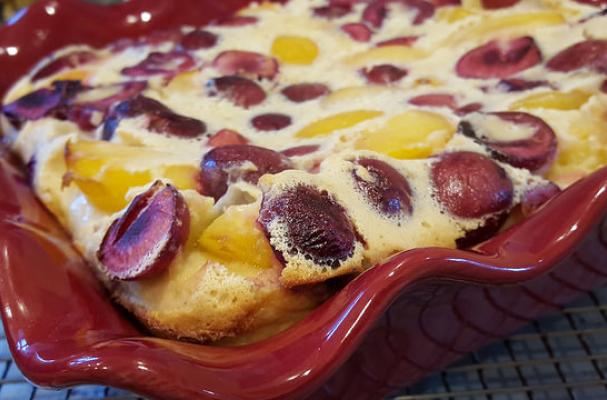 Clafoutis is a classic French fruit dessert that is so easy to make even non-bakers (like myself!) can handle it. A simple egg batter is poured over fruit then baked into a thick and puffy flan-like cake that is so comforting and delicious. Clafoutis (or "clafouti," pronounced kla-foo-tee) is traditionally made with cherries though any fruit can be used (which then would properly be called a flaugnarde), and is best served warm or lukewarm. It's a great way to use up fresh fruit on hand and when you're craving a home-baked dessert that requires little effort.
This delicious clafoutis recipe features golden plums and Bing cherries. Whole cherries make for a beautiful presentation (and the pits add a lovely note of almond), just forewarn your guests of the pits! I removed the pits since I was serving children. If using frozen fruit, make sure you first allow the fruit to thaw and drain before adding the custard.
Golden Plum and Cherry Clafoutis (Clafouti)
8 servings
1/2 pound fresh golden plums, pitted and halved
1/2 pound cherries, stemmed and pitted
1 1/4 cup whole milk
4 large eggs
1/2 cup all-purpose flour
1/2 cup sugar
3/4 teaspoon vanilla extract
1/2 teaspoon kosher salt
Powdered sugar for dusting (optional)
Preheat oven to 375°F. Butter a 10-inch pan or casserole (a skillet also works). Place plums and cherries in the bottom of the pan.
Pour milk in a small saucepan and bring just to a simmer over medium heat. Set aside.
Combine eggs, flour, sugar, vanilla, and salt in a medium bowl; whisk to blend. Gradually whisk in hot milk mixture and continue whisking until custard is smooth.
Pour custard evenly over fruit in the pan.
Bake clafoutis until custard is set and top is golden brown; about 45-55 minutes. If using individual ramekins, cook for about 30 minutes.
Let cool a few minutes before serving, then slice into wedges or scoop out with a spoon. Dust with powdered sugar if desired.
Categories: