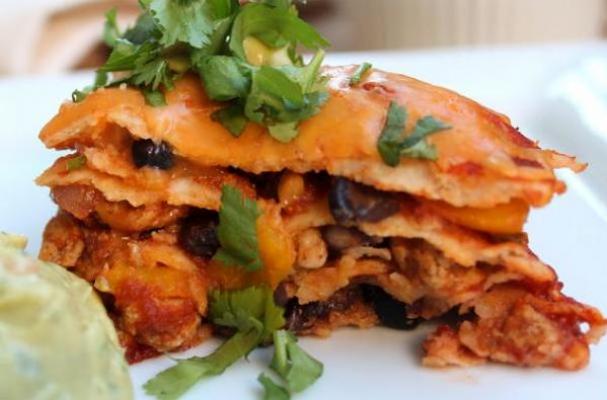 Corn tortillas form the "noodle" layers in this Mexican chicken lasagna recipe. Tucked between each tortilla is a hefty layer of enchilada sauce, shredded cheese, black beans and Mexican seasonings.
Mexican Lasagna with Chicken & Black Bean
Submitted by Food, Pleasure, & Health
Ingredients:
5 corn tortillas
4 oz ground chicken
1/3 cup black beans, canned, rinsed
1/2 onion, chopped
1/2 bell pepper chopped
1 jalapenos (use less if you prefer less hot)
1 cup chipotle enchilada sauce, divided
1/2 cup sharp cheddar cheese, shredded ( I used reduced fat)
2 teaspoon garlic powder
2 teaspoon red chili powder (skip if you prefer less hot)
1/2 heaping tablespoon taco seasoning
2 teaspoon cumin powder
1 tablespoon oil (canola or olive)
cilantro, chopped (for garnish)
salt and pepper to taste
Preheat oven to 375 F.
Over medium heat, add oil on a skillet. When heated, brown ground chicken for a few minutes. Add onions and bell pepper. Let them sweat for a couple minutes and add black beans and jalapeño, and stir them together. Continue this for 2-3 minutes.
Add all the spices and 1/4 cup enchilada sauce. Allow it to cook a few minutes, then remove from heat. Let it cool or leave it in the refrigerator for quick chill.
In a baking dish, pour about 2-3 tablespoon enchilada sauce then add one tortilla. Spread 1 tablespoon of sauce over the tortilla then spoon chicken-bean mixture followed by 1 tablespoon of cheese, or more if you like.
Layer it likewise with the remaining tortillas. Just make sure the tortillas are well covered in sauce, otherwise it will be very dry.
Top the last tortilla with remaining sauce and cheese.
Bake, covered, for 10-12 minutes or until the sauce bubbles and cheese is melted completely.
Image Sources:
Categories: