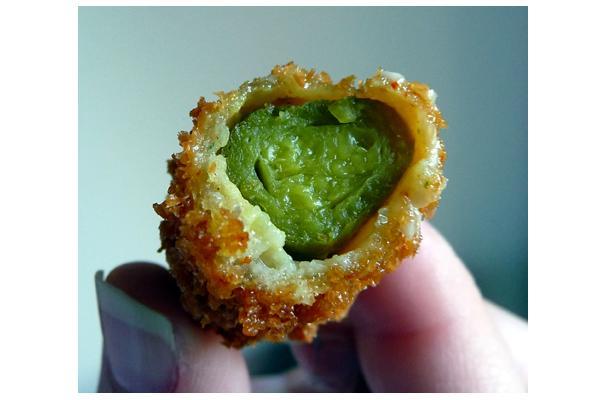 They sound crazy but Dunkin Cooking the Semi-Homemade Way swears her deep fried pickles are OMG delicious! She created a spicy batter seasoned with garlic, cayenne and adobo seasonings then coated both sweet pickle chips and mini garlic dills in bread crumbs. The pickles are then deep fried until golden brown. They're the perfect game day appetizer!
Deep Fried Pickles
Submitted to Foodista by Dunkin Cooking the Semi-Homemade Way
11 sweet cucumber chip pickles, drained and dry
11 mini garlic dills, drained and dry
1 egg
1/4 cup milk
1/2 cup flour
1 tablespoon garlic seasoning
1/4 teaspoon cayenne
1/2 tablespoon adobo seasonings
2/3 cup panko bread crumbs
Salt
In a small shallow bowl mix the milk and egg together. In another small shallow bowl mix the flour, cayenne, adobo and garlic together, and in the last bowl add the Panko crumbs. One at a time dip the pickles into the egg mixture then into the flour. Shake off the excess flour and dip back into the egg then cover in the Panko crumbs. Lay the covered pickles in a single layer onto a baking sheet, when all pickles have been covered place the tray into the freezer for 1 hour (this will ensure the coating sticks to the pickle in the deep fryer). Heat a deep fryer to 375 degrees and cook a single layer of pickles at a time for 1 minute, place on paper towel to drain. Sprinkle with salt, they are good hot or cold.
Categories: