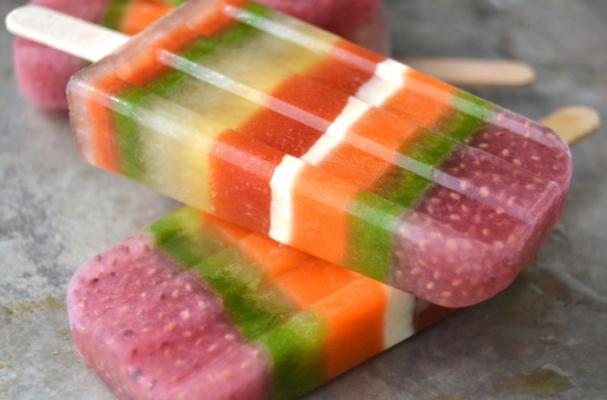 Ice pops are a must during the summer. No supermarket popsicle compares the to the delight of tasting your own homemade ice pop. The flavors are more intense and pure with no artificial flavorings, sweeteners or colors. To ensure that your ice pop is silky smooth, strain your fruit puree through a fine mesh sieve before pouring into molds. This will catch any chunks or seeds. Of course, fruit chunks are welcome if you prefer an ice pop with texture. These sweet frozen treats are a delicious way to cool down after a hot summer's day.
Watermelon Mojito Pops
Recipe from The Girl in a Little Red Kitchen
A boozy frozen treat that adults are going to love.
Lego Ice Pops
Recipe from Sugar Swings
If you are planning to spend the summer with the kids, these Lego ice pops are a must.
Strawberry Cheesecake Pops
Recipe from Pomegranate Days
These creamy pops are sure to become a summertime favorite.
Raspberry Chia Pops
Recipe from Running to the Kitchen
This recipe only requires three ingredients and are healthy too!
Power Popsicles
Recipe from The View From Great Island
This ice pop is your favorite fruit smoothie on the go.
Image Sources: