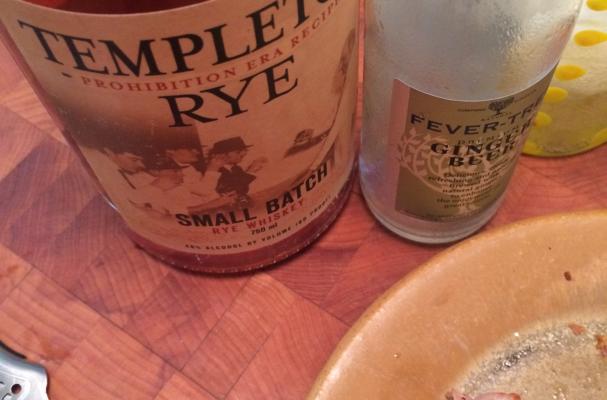 I really don't like tasting strong liquor without food available. Why is that? Because in the real world, people like to drink with food available, preferably alongside. It's really unfair in my opinion to just taste spirits without something to ease the way for the liquor.
Food, after all is said and done is meant to have liquor wash IT down. I've always been on the level with this opinion and it's too bad that my peers don't see eye to eye with me on this. But that is why I bring a sandwich with me to taste spirits.
Otherwise I'd get blasted! It's just that simple!
As much as I don't like to get drunk, there are certain occasions that it is inevitable just by the nature and potency of the spirits themselves. It's darned hard to remain objective when drinking rye whiskey. Please don't get me wrong. I love rye whiskey because it emulates the cinnamon tinged and the spice qualities of rye bread.
And what goes really well with rye bread? Well because I had some Niman Ranch ham in the fridge I was able to make a pretty decent grilled cheese and crispy ham to go with my Templeton Rye. Of course I used the butter from Jonathan White. His butter sets the dairy industry back 100 years! It's actually sour, just like the rye whiskey and the rye bread. I'm rather partial to his Jean-Louis cheese and I couldn't think of anything more salubrious than that alongside my crunchy ham, sizzled in the frying pan.
But the product that sealed the deal to my "day-drink" was none other than Fever Tree "premium" Ginger Beer. Yes my friends there are many different ginger beer varieties on the market. Most are riding on their laurels. We all know who they are because they are the big players and I won't go after them because someone likes them. But any cold beverage that is made with corn syrup sweeteners and artificial colorings are not going to get the tip of my hat. Even if they say they are from Bermuda. It just doesn't matter and I won't plug them. Enough said.
Fever-Tree makes absolutely gorgeous seltzers, tonics and some of the most peppery Ginger Beer I have ever had the pleasure to enjoy. Sure there are others that are spicy across my palate and still others that are pretty good. But for my money, the Fever-Tree product is just like making your own home-made ginger beer.
It's so good that I opened a fresh bottle of Templeton Rye and mixed myself a Day Drink. But worry not... I made myself lunch to go with my day drink so I have something in my belly to sop up that good liquor!
Day drinking is something that I don't do very often because it's just too enjoyable! Especially with Templeton Rye and a crunchy, grilled ham and cheese sandwich. Fever Tree Ginger Beer and Templeton Rye is the reason why I made that sandwich. Seared Ham and luscious hand made cheese just needed something assertive to wash it down. No excuses though. Fever Tree has enough guts to wash down any cave aged cheese. Especially the Jean-Louis!
The bread is equally important. Here in New Jersey we are fortunate to have what I consider to be one of the best rye breads available. It is made by Pechter's. There is something about it that makes me hungry and thirsty. Serious deli people use Pechter's because of its rye forward quality. It is not only made with rye grain but also with a plethora of caraway seeds. Not everyone likes caraway seeds in their rye. For these people I say stick to white bread and and iced tea, over Pechter's rye bread and rye whiskey. Why? The combination of caraway seeds, rye grains, good stout mustard, hand-made, cave aged cheese and sizzling hot ham would be too much for you!
But I digress. For my cocktail pleasure I choose Fever Tree today because it tasted FABULOUS with my Templeton Rye Whiskey. A sandwich and a liquid sandwich.
Try it. And yes, I give you permission to have a day drink- but don't get too comfortable with them. You'll know what I mean after you have one!
My second book, coincidentally about whiskey has quite a few recipes for rye whiskey. Here is one that doesn't appear in my book, yet it is most salubrious after a long day in front of the word processor!
My Dear Mr. Symonds
Ingredients:
3 oz. Templeton Rye Whiskey
1 oz. Shrub Drinks- Texas Ruby Red Grapefruit Shrub
4 oz. Fever Tree Ginger Beer
3-4 drops Bitter End Memphis BBQ Bitters (essential!)
Twist of lemon and a mint sprig
Prep:
Add the Templeton's Rye to a Boston Shaker filled 3/4 with ice
Add the Shrub Drinks- Ruby Red Grapefruit Shrub
Cap and shake hard for 15-20 seconds
Pour over ice in to a Collins Glass
Top with the Fever Tree Ginger Beer
Drip 2-3 drops of Bitter End Memphis BBQ Bitters over the top
Garnish with a lemon twist and some mint.
sip sip sip