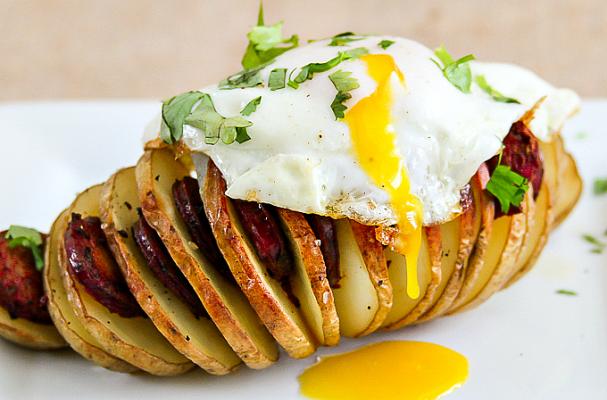 Hasselback potatoes are making a comeback. This unique cooking technique allow the potato slices to be crispy and golden brown on the outside and soft and tender on the inside. Moreover, when you add flavorful ingredients like butter, cheese, fresh herbs, or even cured meat, you can make a side dish that truly stand out.
Apple Cinnamon Hasselback Sweet Potatoes
Recipe from My Recession Kitchen
This hasselback sweet potato recipe is more like dessert than a side dish. The sliced sweet potato is filled with butter, maple syrup, spices, nuts and dried fruit. If you really want to serve this as an after dinner treat, you can add a crumb topping for a bit more sweetness and serve with a drizzle of marshmallow fluff.
Truffle Scented Hasselback Potatoes with Salami
Recipe from Insatiable Munchies
Truffle scented hasselback potatoes with salami and gruyere cheese take center stage. These crunchy, salty potatoes can be served as a main course or extravagant side dish. The drizzle of fragrant truffle oil takes these potatoes from ordinary to a truly special dish. Feel free to use other cured meat for this recipe like prosciutto, capicola, or soppressata.
Loaded Hasselback Potatoes
Recipe from Half Baked Harvest
Loaded hasselback potatoes blows other popular baked potato recipes out of the water. The crispy layers of potato paired with melted cheese, salty bacon and cooling sour cream are simply irresistible. If you really want to go for the gold, you can add pickled jalapenos and blue cheese. This is a perfect dish to serve during Monday night football.
Paleo Hasselback Sweet Potatoes
Recipe from Paleo Foodie Kitchen
Even on a specialized diet, hasselback sweet potatoes can be on the menu. This paleo version stuffs sweet potatoes with ground beef, bacon, bell peppers, and mushrooms. The dish is topped with a vegan cheese sauce made with a combination of coconut milk and nutritional yeast. If you are not paleo or vegan, you can certainly spoon your favorite cheese sauce over the hasselback sweet potatoes.
Brunch Hasselback Potatoes
Recipe from I'm Bored, Let's Go
Hasselback potatoes can be served for lunch, breakfast or dinner. These brunch hasselback potatoes are stuffed with crispy slices of Spanish chorizo and topped with a fried egg. The gooey sauce created by the egg yolk drips into every nook and cranny, making every bite better than the last.
Image Sources: