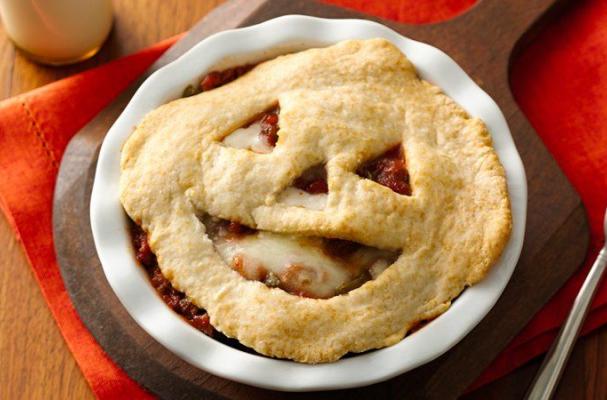 Transforming an ordinary meal into a celebratory Halloween one is as easy as pizza pot pie. Ground beef is browned and combined with a thick marinara sauce along with onions, mushrooms, and bell peppers. The mixture is then spooned into a casserole dish and topped with cheese and biscuit dough that is cut into the face of a jack o'lantern. You can also bake these pot pies in individual ramekins. it is important to note that you can switch up the ingredients depending on what you have available on hand. I like to make my pizza pot pie with Alfredo sauce, butternut squash, chicken and bacon for a different spin on classic pizza flavors. You can also use this method to make sweet pot pies as well.
Pizza Pot Pie
Courtesy of Betty Crocker
1pound lean ground beef or Italian sausage
1/2 cup chopped onion
1/2 cup chopped green bell pepper
1 can (8 ounces) pizza sauce
1 can (4 ounces) sliced fresh mushrooms
1 cup shredded mozzarella cheese (4 ounces)
1 cup Original Bisquick™ mix
1/4 cup very hot water
Heat oven to 375ºF. Grease four 10- to 12-ounce casseroles.
Cook ground beef, onion and bell pepper in 10-inch skillet over medium heat, stirring frequently, until beef is brown; drain. Stir in pizza sauce and mushrooms. Heat to boiling, stirring occasionally; reduce heat. Simmer uncovered 5 minutes, stirring occasionally. Spoon beef mixture into casseroles. Sprinkle 1/4 cup cheese on each.
Mix Bisquick mix and very hot water; beat vigorously 20 seconds. Turn dough onto surface dusted with Bisquick mix; gently roll in Bisquick mix to coat. Shape into ball; knead about 10 times or until smooth. Divide dough into 4 balls. Pat each ball into circle the size of diameter of casserole. Cut steam vent in each circle with knife or cookie cutter. Place each circle on beef mixture in casserole. Bake 15 to 20 minutes or until very light brown.
Image Sources: