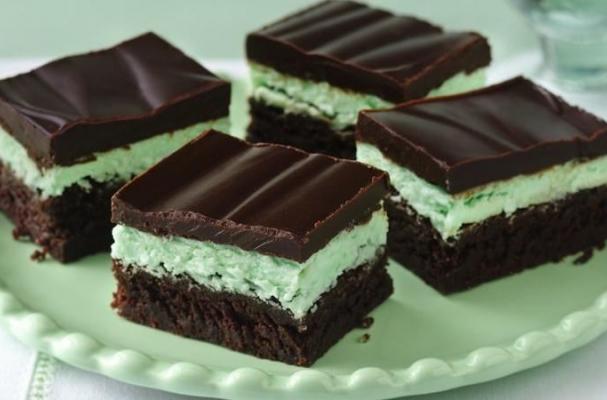 Brownies are a guaranteed crowd pleaser and if you are looking for something to serve on St. Patrick's Day, look no further. You can whip these two toned mint brownies at the drop of a hat. Furthermore they are as easy to prepare as they are delicious. Whether you are sipping on an ice cold Guinness or cup of milk, these brownies are a perfect match.
Chocolate Mint Brownies
Courtesy of Betty Crocker
Ingredients:
For the brownie base:
1 box (1 lb 2.4 oz) Betty Crocker™ Original Supreme Premium brownie mix
Water, vegetable oil and egg called for on brownie mix box
For the filling:
2 1/2 cups powdered sugar
3 tablespoons butter or margarine, softened
3 tablespoons whipping cream
2 oz cream cheese, softened (from 3 oz package)
1/8 to 1/4 teaspoon mint extract
2 drops green food color
For the topping:
1/3 cup whipping cream
1 1/3 cups (8 oz) semisweet chocolate chips
1/3 cup butter (do not use margarine)
Directions:
Step 1: Heat oven to 350°F (325°F for dark or nonstick pan). Grease bottom only of 9-inch square pan with shortening or cooking spray. (For easier cutting, line pan with foil, then grease foil on bottom only of pan.) Make and bake brownie mix as directed on box. Cool completely, about 1 1/2 hours.
Step 2: In large bowl, beat filling ingredients with electric mixer on medium speed until smooth. Spread over cooled brownies. Refrigerate about 1 hour or until set.
Step 3: Meanwhile, in 2-quart nonstick saucepan, heat topping ingredients over medium-low heat, stirring constantly, until melted and smooth. Cool about 10 minutes or until lukewarm.
Step 4: Pour topping over filling; spread to cover. Refrigerate uncovered about 2 hours or until set. Before cutting into bars, let stand 10 minutes at room temperature. For bars, cut into 5 rows by 4 rows. Store covered in refrigerator.
Editorial Disclosure: Foodista was not paid for this post.
Image Sources: