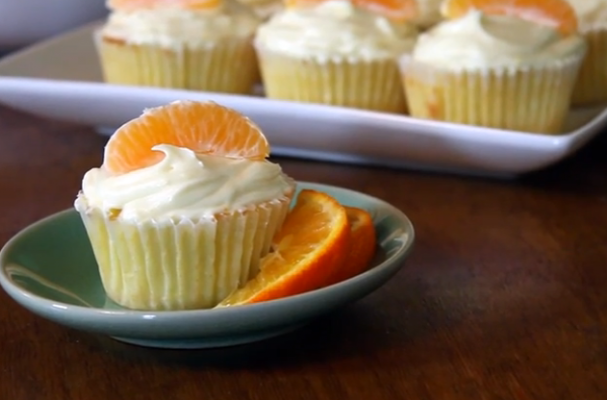 Clementines are abundant during the winter and a batch of homemade cupcakes is the perfect way to use this seasonal fruit. Clementines have a sweeter, less acidic flavor compared to oranges but you can use them in place of orange in most recipes. You can purchase clementines by the bag which works out because this recipe alone uses five (three for the cupcakes and two for the frosting). Whether you are still singing the winter blues and rejoicing the arrival of spring, these cupcakes will be a breath of fresh air in your kitchen.
Clementine Cupcakes
Recipe from Chef Julie Yoon
Ingredients:
For the cupcakes:
1 cup (2 sticks) unsalted butter, at room temperature
1 3/4 cups sugar
Zest of 3 clementines
4 large eggs, at room temperature
2 3/4 cups flour
1 1/2 teaspoons baking powder
1/4 teaspoon fine salt
3/4 cup milk
Juice of 3 clementines (or enough to make 1/4 cup)
1 teaspoon vanilla extract
For the frosting:
1 stick unsalted butter, softened
4 ounces cream cheese, softened
3 to 4 cups confectioners sugar
1 teaspoon vanilla extract
Zest of 2 clementines
Juice of 2 clementines
For full recipe instructions, watch the video below or click here.
Image Sources: