When you ask the little chefs what they want for a favorite family dinner, they always ask for Mexican Night. I have made my cooking and menu planning easier by having one night a week for certain types of meals. Meatless Monday, Pasta Tuesday, Mexican Wednesday, that sort of thing. This is a huge hit with the kids and we can explore different dishes under the theme of the day. I'm hoping to inspire lifelong cooks with all of them, and it seems to be working.
Mexican night is much loved, but it still has to be kid-friendly. Nothing too spicy, but still keeping with flavors they love, and allowing for my husband's spicy palate, so easy to adjust the heat is always welcome.
This week, we enjoyed Cheesy Chicken Enchiladas. There is just nothing nicer than a Mexican flavored casserole, with a good cheese ingredient. I leave one side of the dish with no jalapenos for the littlest kids, and the other end gets extra spice for those who enjoy it. This casserole recipe is thanks to the contribution from Holly Sander. It's just perfect and surprisingly filling! We love the leftovers the next day. They freeze well for later in the week too. It's just the perfect casserole if you want to try something family friendly and still special.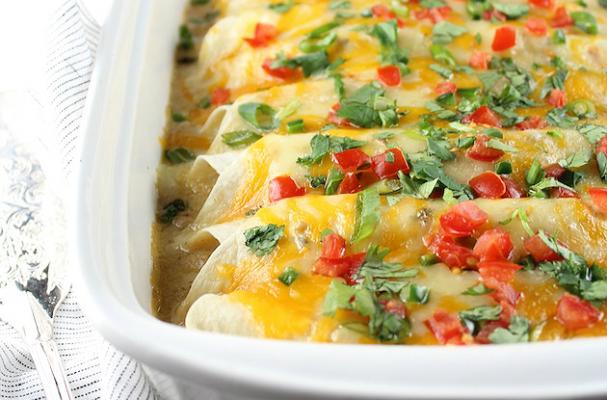 2 tablespoons butter
½ cup chopped onion
4 cloves garlic, minced
1 teaspoon ground coriander
¼ teaspoon pepper
½ teaspoon salt
1 tablespoon pickled jalapeño pepper slices, chopped
3 tablespoons all-purpose flour
8 ounces sour cream
2 cups chicken broth
3 ½ cups grilled thinly sliced chicken
8 flour tortillas
2 cups shredded Monterey Jack cheese
½ cup yellow cheddar cheese
For the garnish:
Fresh cilantro, chopped,
Tomatoes, finely chopped
Green onions, thinly sliced
Pickled or fresh jalapenos, finely chopped (optional)
Image Sources: