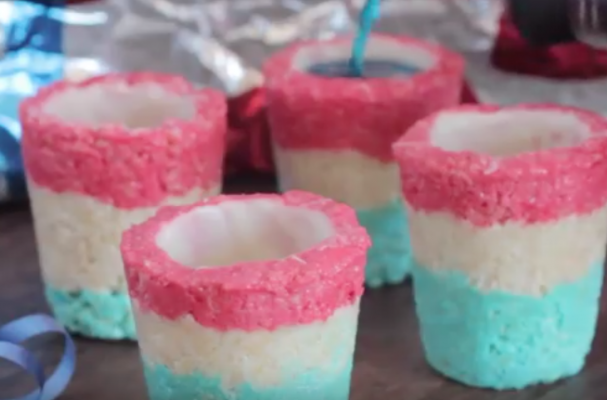 Edible 4th of July shot glasses allow you to chase your favorite spirit with a sweet treat. The classic Rice Krispies treat recipe is spiked with some color to add some pizzazz. The cereal is then molded into a drinking vessel using plastic Dixie cups and a shot glass. The inside is coated in white chocolate to prevent your drink from leaking. This fun activity will really take your Independence Day party to the next level.
Rice Krispie Treat Shot Glasses
Recipe from The Watering Mouth
Ingredients:
3 tablespoons butter
4 cups marshmallows
3 cups puffed rice cereal such as Rice Krispies
1 cup white chocolate chips
Red and blue food coloring (or natural alternative)
6 3-ounce bathroom cups
1 2-ounce tall shot glass
For full recipe instructions, watch the video below.
Image Sources: