Some of the best recipes are the old fashioned ones. I love making these jam bars because they are a delicious treat that packs easily into lunch boxes, and tastes great to the last crumb. Use cherry pie filling or your own cherry jam. These bars are rich and delicious.
I double the recipe and make it in a 9X13 cake pan. Allow the bars to cool to room temperature and wrap them individually for the lunchbox.
Your granny would be proud!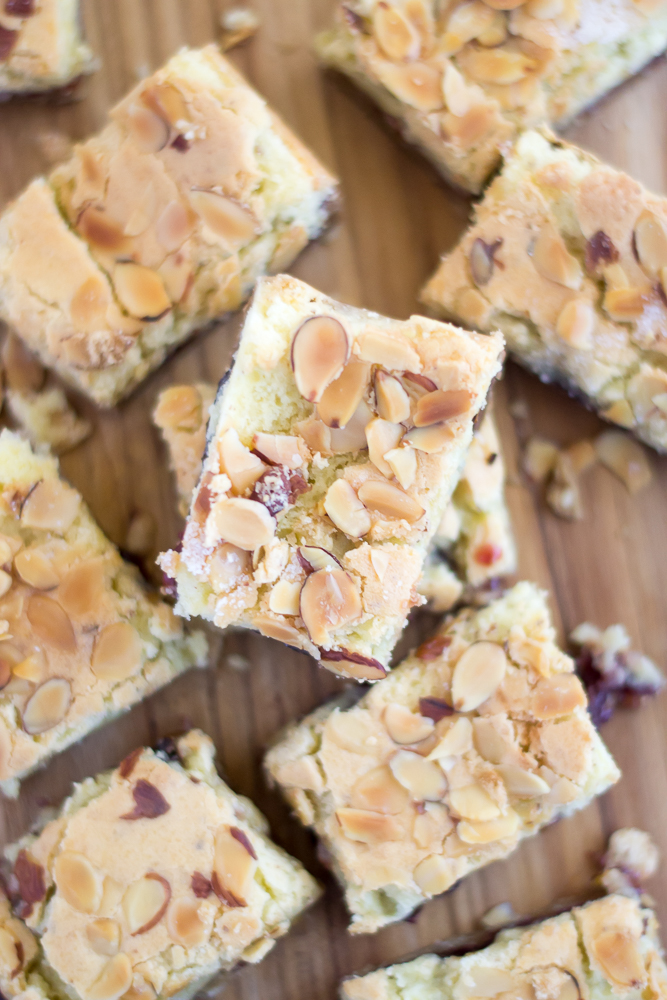 Crust Ingredients
1 cup all-purpose flour
½ cup butter softened
⅔ cups packed brown sugar
¼ cup almond meal or finely chopped almonds
¼ teaspoon almond extract
Cake Ingredients
¾ cherry marmalade, cherry jam or cherry pie filling
½ cup of butter softened
⅔ cups granulated sugar
2 eggs, beaten well
⅔ cups of flour
¼ cup almond meal or finely chopped almonds
1/2 teaspoon almond extract
Topping Ingredients
1/4 cup sliced almonds
1 tablespoon sugar
Glaze Ingredients
½ cup powdered sugar
1 tablespoon milk
⅛ th teaspoon almond extract
Preparation
1 Make the Crust/Bottom Layer
2 Cream butter and sugar.
3 Add flour, chopped almonds and extract.
4 Mix well. Batter will be thick and crumbly
5 Prepare an 8×8 inch baking pan by covering the bottom and sides with 2 pieces of parchment paper cut to fit the width, leaving a slight over hanging over the edges.
Categories: